Møt den neste generasjonen medarbeidere
Bedre produktiviteten til de ansatte
Tenk deg at du har alle hendene du trenger for å møte etterspørselen og holde produksjonen i gang. Ser du etter noe til å forbedre produktiviteten til ditt team? Møt din neste generasjon med kolleger.
Coboter er enkle å sette opp og tilbyr en rask og kostnadseffektiv løsning. De kan øke fleksibiliteten, kvaliteten og produksjonshastigheten og gjøre det mulig for bedriften å reagere raskt på skiftende markedsforhold.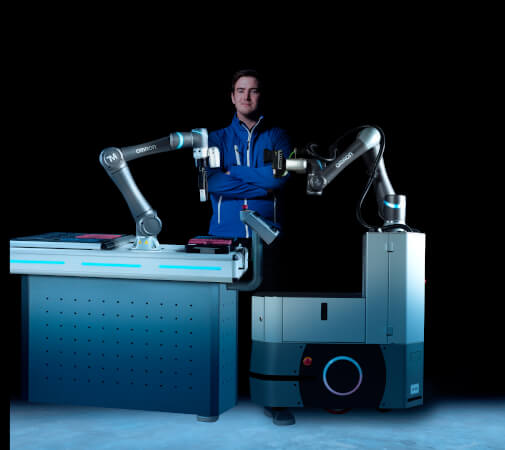 Lett å begynne
For å redusere nedetiden ved å automatisere med roboter trenger du en robot som kan komme raskt i gang og holde det gående. Våre coboter leveres med alt du trenger for å komme i gang med det samme.
Lave eierkostnader
OMRON coboter gir høyest avkastning på investeringen. De kan fleksibelt tilpasses til nye produksjonsprosesser og oppsett på få minutter.
Fleksibilitet
Våre samarbeidende roboter er utformet for å være enkle å bruke til forskjellige oppgaver og anvendelser, noe som gjør produksjonen så fleksibel som nødvendig.
Å arbeide i harmoni
Våre coboter lærer fort og kan gjøre din produksjon mer effektiv. På bare noen få minutter kan du lære dem hvordan de kan dele oppgaver med mennesker og fleksibelt tilpasse seg til nye behov. Dra nytte av fordelene med integrerte sikkerhetsfunksjoner som gjør at de kan arbeide med eller i nærheten av mennesker og øke produktiviteten for en rekke oppgaver som gjentas ofte.
Se på video
Omron's factory in Shanghai is creating an environment where people and robots work together, to meet challenges in manufacturing today, such as shortage in manpower and overall equipment effectiveness (OEE). In this video, you can see how Omron TM collaborative robots work safely side-by-side with people.

04:46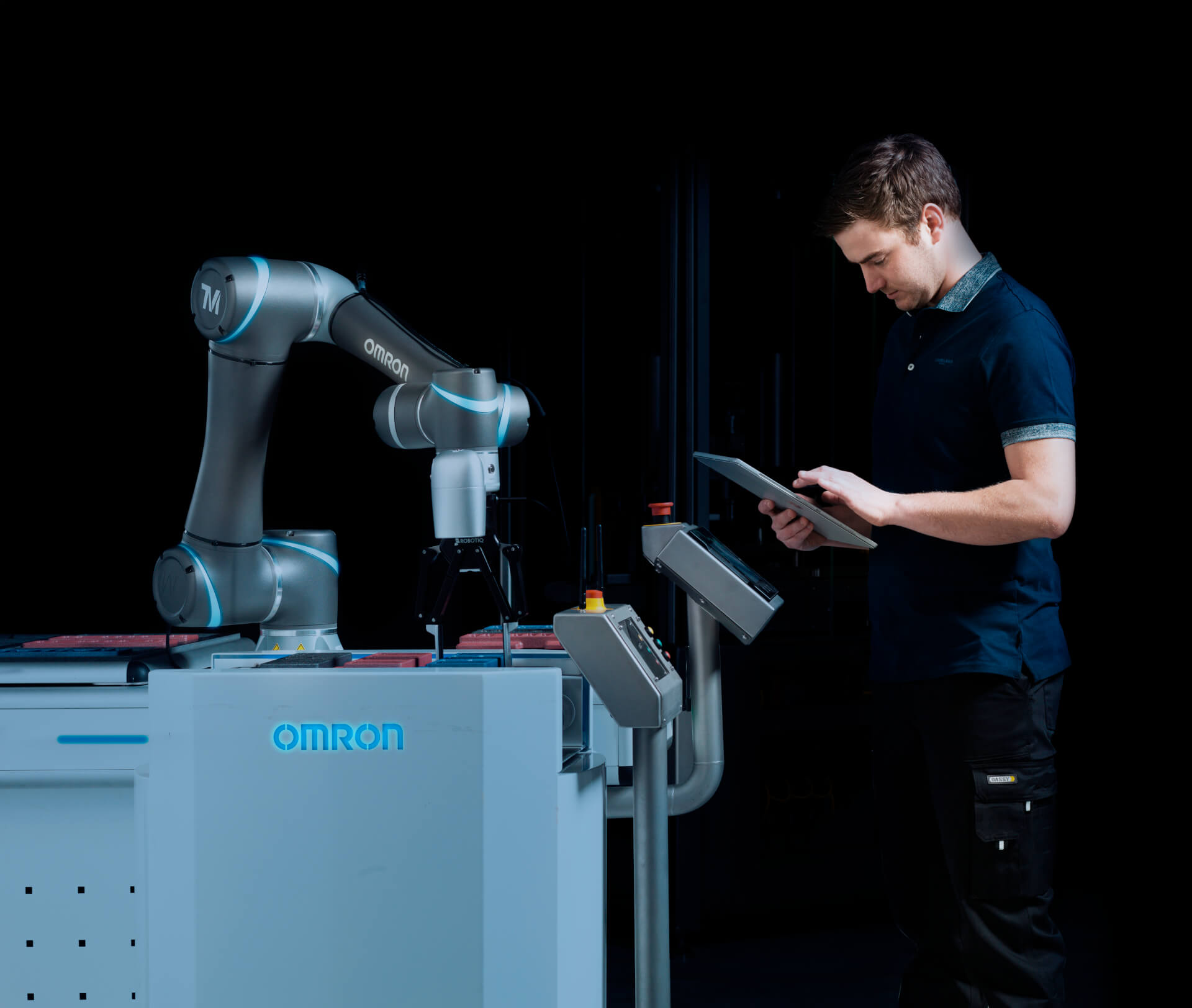 Bruksområder
Uansett om du arbeider i bilindustrien, næringsmiddelindustrien, emballasje, plast, maskinverktøy eller farmasøytisk produksjon, er OMRON TM sin kollaborative robot utformet for å tilpasses nesten alle typer industri.
Er du interessert i å høre mer om våre samarbeidende roboter?
Sikkerhet ved kollaborative applikasjoner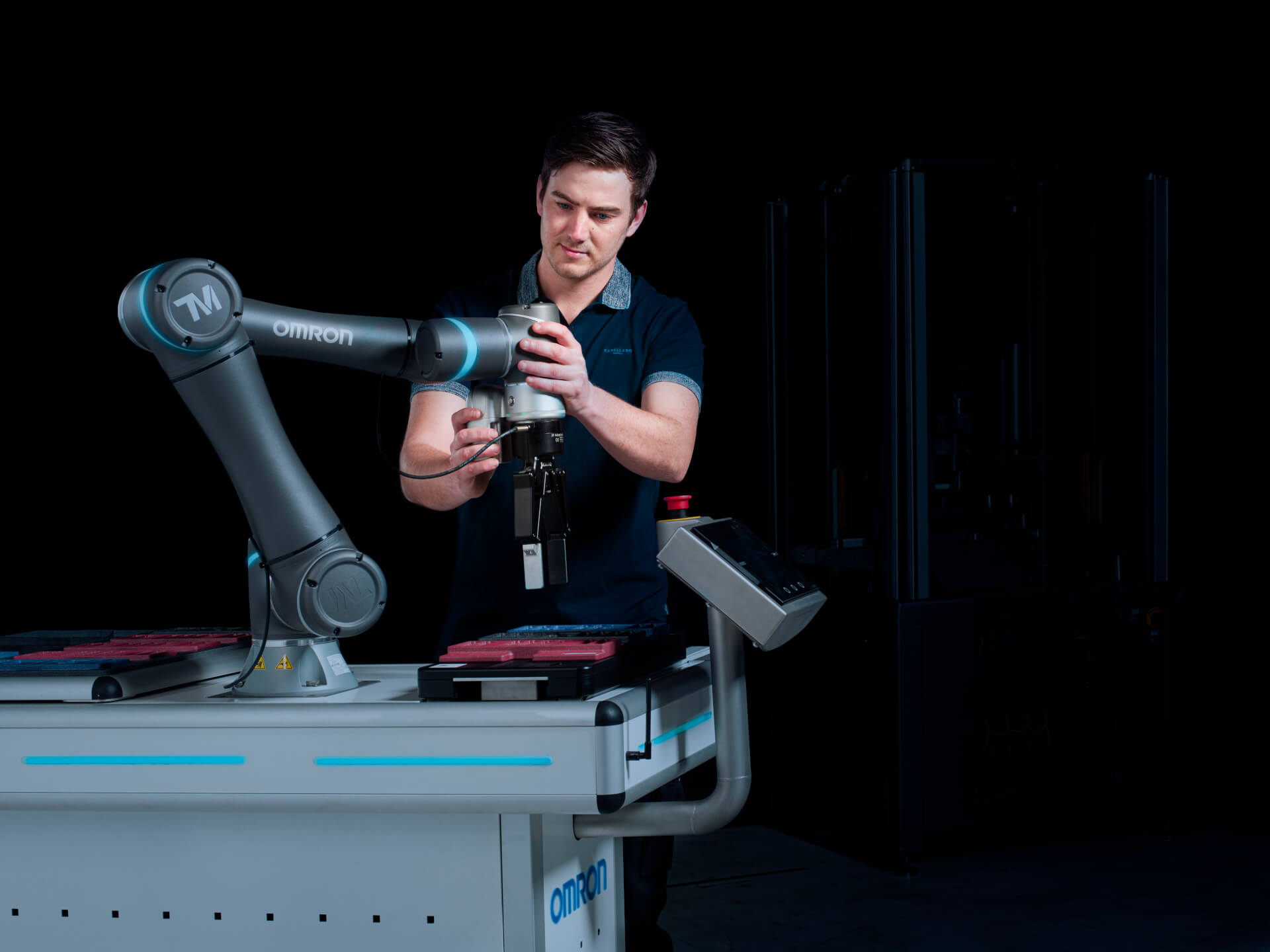 Kollaborative roboter har integrerte sikkerhetsfunksjoner som gjør at de kan arbeide tett innpå mennesker, samtidig som de øker produktiviteten i ulike krevende og gjentakende oppgaver.
Coboter er enkle å implementere og tilpasses raskt og enkelt til nye situasjoner. Samarbeider tett med de ansatte du allerede har. Sørger for at de har tid til å gjøre det mennesker gjør best – kreative og verdiskapende oppgaver.
Vi utviklet våre coboter i samsvar med ISO 10218–1 og ISO 10218–2 sikkerhetsstandarder og ISO TS–15066 tekniske spesifikasjoner for å definere de nødvendige sikkerhetsfunksjonene og ytelsen. Vi inviterer deg til å laste ned rapporten vår om coboter, der du kan lese om bransjestandarder, risikovurderinger, beste fremgangsmåter og strategier for å maksimere verdien av bruken din.
Risikovurderingtjenester
Teamet vårt er her for å hjelpe deg med å introdusere coboter for teamet ditt. Begynn med en risikovurdering for å redusere potensielle sikkerhetsrisikoer i produksjonen. Våre sikkerhetsingeniører har uovertruffen ekspertise på arbeidsplasser og identifiserer relevante standarder og krav til samhandling med mennesker.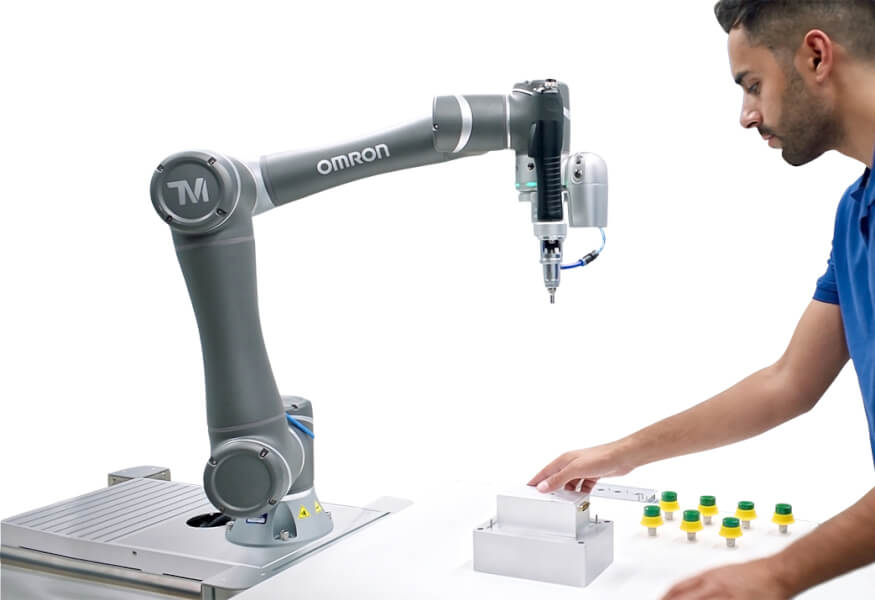 WEBINAR RECORDING
This translates into increased complexity when safely implementing these applications. Moreover, changes in safety standard requirements have arrived, and this needs to be known by integrators and end users. That's why the Omron 45-minute webinar will show you the route to answer all these changing needs.
Arrangert 8. jul, 2020
1:00
Møt neste generasjons medarbeidere
OMRONs utvalg av kollaborative roboter omfatter en rekke modeller for å garantere riktig rekkevidde og nyttelast for ulike bruksområder.
Rekkevidde
Nyttelast
Maks. hastighet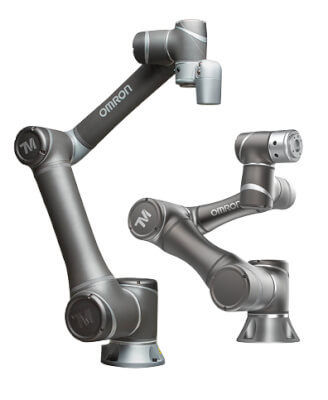 TM 5–700
Rekkevidde

700 mm

Nyttelast

6 kg

Maks. hastighet

1,1 m/s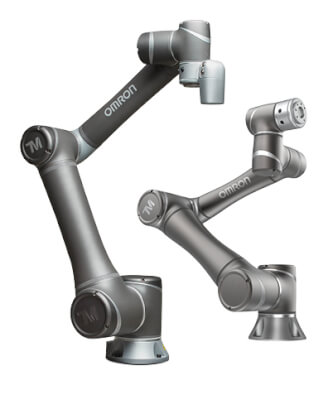 TM 5–900
Rekkevidde

900 mm

Nyttelast

4 kg

Maks. hastighet

1,4 m/s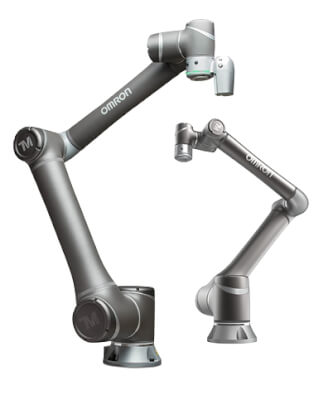 TM 12
Rekkevidde

1300 mm

Nyttelast

12 kg

Maks. hastighet

1,3 m/s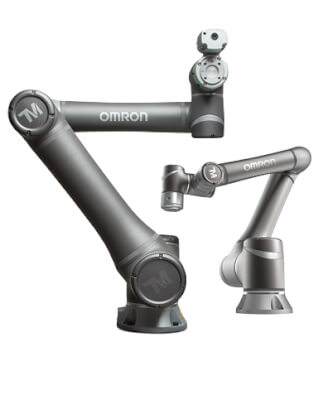 TM 14
Rekkevidde

1100 mm

Nyttelast

14 kg

Maks. hastighet

1,1 m/s
Coboter gir mye større fleksibilitet
Vi har utformet våre kollaborative roboter slik at de enkelt kan brukes til forskjellige oppgaver og anvendelser. Gjør produksjonen så fleksibel som nødvendig, og gjør medarbeiderne dine i stand til å gjøre det de kan best.