4th generation Factory Automation devices built on Unified Design Platform
Enabling smaller control panels or increased functionality, our new standardized products also feature Push-In Plus wiring technology.
The fourth generation of our factory automation (FA) control devices are built on a common design platform with unified product specifications. The new products include 144 models in two categories: E5CD-B and E5ED-B series Digital Temperature Controllers and A22NE‑P Emergency Stop Pushbutton Switches with Push-In Plus technology.
The unified the design of our FA devices saves space, enabling panel builders to make smaller control panels or include more components into a panel to increase its control functionality. In addition, the standardized, smaller size of these components enables easier and faster control panel customization. Furthermore, the Common Design Platform includes our proprietary "Push-In Plus" wiring technology, which combines faster wiring with a reliable connection and outstanding vibration resistance.
The unified design platform results in significant savings. Previous FA devices built on the Common Design Platform have been adopted on the front line of manufacturing by more than 10,000 global companies. Some typical examples are:
A manufacturer of semiconductor production equipment reduced manufacturing costs and panel size by 30%, and wiring time by 50%
An electrotechnical installation company in The Netherlands reduced cabinet size by 20% with 15% less cost in the entire panel building process
Omron aims to innovate customers' control panels, and by expanding the range of FA devices built on its unified design platform, we can give customers a wider variety of devices to choose from. Since component height varies, depending on factors such as power and heat dissipation, the in-panel products are categorized into three main groups, each with their own specific placement in the control panel: I/O, Control, and Power. Within each category, optimized design rules ensure that dead space is reduced and the width between wiring ducts is optimized.
New products
Digital Temperature Controllers: E5CD-B, E5ED-B
Introduced in April 2017, the E5CD-B and E5ED-B next generation digital temperature controllers are designed to provide optimal and automatic temperature control without human intervention. All typical adjustments that would normally be made in the field by experts are automated using artificial intelligence (AI) algorithms. The 'adaptive control technology' automatically detects changes in the process under control and adapts the PID accordingly. Omron has expanded the E5CD-B and E5ED-B series with models featuring Push-In Plus technology. This technology incorporates rear insertion of the wires which allows side-by-side mounting, making panels cleaner and more space efficient.
Connection method: Push-In Plus technology
Input sampling period: 50 ms
Control output (dependent on model): relay output, voltage output for driving SSR or linear current output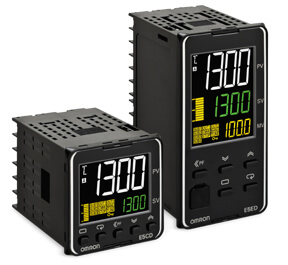 Emergency Stop Pushbutton Switches: A22NE-P
The A22NE-P series extends the A22E series Emergency Stop Pushbutton Switches with added Push-In Plus technology. The technology reduces wiring time and saves up to 30% space compared to conventional screw technology. The contact units incorporate rear insertion of the wires which allows side-by-side mounting, making a panel cleaner and more space efficient.
Connection method: Push-In Plus technology (up to 3 units can be mounted)
Size (inside depth including the panel):
39.5 mm (single-contact or lighting unit)
55 mm (double-contact unit)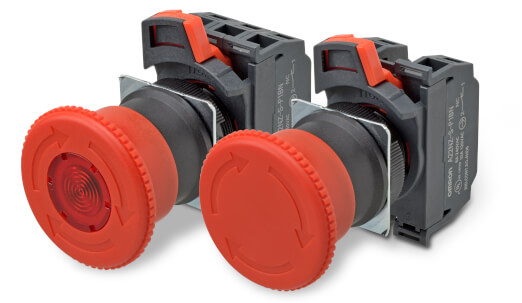 Følg OMRON Industrial Automation på LinkedIn