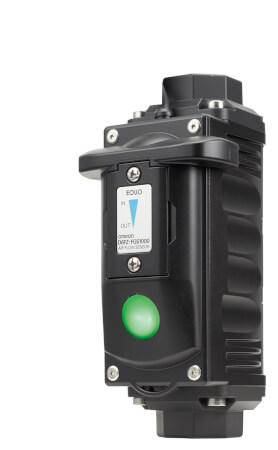 D6FZ-FGS-serien
Identify waste in your compressed air lines
Measure air leakage, use and pressure to improve energy management at the air line. The D6FZ-FGS1000 series of air flow sensors provide visualization of invisibile energy waste for compressed air systems to improve Energy Manager and Energy Service company (ESCO) actions.
High accuracy flow measurement
Simultaneous leakage, usage, pressure and temperature measurement with one unique product
2 Analogue and 2 pulse outputs
RS485 communications
High degree of protection: IP64
Mountable to curved pipe or coupler
Operation indicator
Threshold value (peak/bottom/leak)
Alarm hold
Specifications & ordering info
Ordering information
Units
| | | |
| --- | --- | --- |
| | | |
| | | |
| | | |
| | | |
| | Air flow sensor set (1000L type) | |
Accessories (sold separately)
(Air flow sensor D6FZ-FGT only)

(Air flow station D6FZ-FGX21 only)
Specifications
Air flow sensor
Air, nitrogen (N2)1

Measurement range2

Accuracy2

Momentary flow/integrated flow/reversing display/zero point adjustment/peak and bottom hold/key lock/eco model/scaling (analog output)/judgement hysteresis/teaching

Current output 4 to 20 mA (1 contact), maximum load resistance 300 Ω max.

Open collector output (2 outputs) 26.4 VDC 50 mA max.

(Outputs can be selected from judgement output, pulse output and unit error output)

2-wire half duplex communication, start-stop synchronized method

Baud rate: 9.6k/19.2k/38.4k/115.2kbps, data bit length: 7/8bit,

stop bit length: 1/2bit, parity: none/even/odd,

termination resister (120 Ω ): ON/OFF,

Momentary flow, integrated flow, judgement output, unit error output
Direct piping:10 kPa max. (0.5 MPa, at maximum flow)

Using coupler (TL type by NAGAHORI INDUSTRY CO., LTD.):

16 to 24 VDC ±10% ripple (p-p) 10% max. (Using single unit),

Current output 4 to 20 mA (2 contact)3 Max. load resistance 270 Ω max.

Open drain output (2 outputs)4 24 VDC 50mA max.

ON residual voltage 1.5 V max., OFF leakage current 50 µA max.

2-wire half duplex communication, start-stop synchronized method

Baud rate: 115.2 kbps (fixed), Data bit length: 8 bits (fixed), stop bit length: 1 bit (fixed), parity: even (fixed), communications protocol: compatible with CompoWay/F

Momentary standard flow, integrated standard flow, pressure, unit error output
---
How can we help you?
If you have a question or would like to ask for a quote, please contact us or send a request.
+47 22 65 75 00
Contact us
Kontakt meg D6FZ-FGS-serien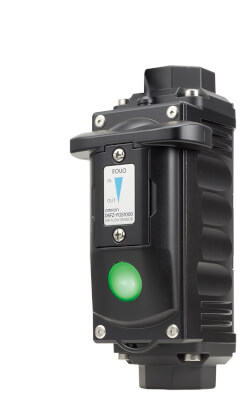 Takk for din forespørsel. Vi vil kontakte deg så snart som mulig.
Vi har for tiden tekniske problemer. Ditt skjema har ikke blitt innsendt. Vi beklager så mye og håper du vil prøve igjen senere. Detaljer:
Download
Request quotation
Request quotation
Tilbud for D6FZ-FGS-serien
Ved å fylle ut dette skjemaet vil du motta et tilbud på det valgte produktet. Vennligst fyll inn alle obligatoriske felter. Dine personlige opplysninger vil bli behandlet konfidensielt.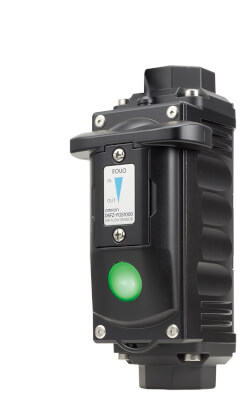 Takk for din tilbudsforespørsel. Vi vil sende deg det forespurte tilbudet så snart som mulig.
Vi har for tiden tekniske problemer. Ditt skjema har ikke blitt innsendt. Vi beklager så mye og håper du vil prøve igjen senere. Detaljer:
Download