New MobilePlanner tablet Software
A new "lite" and easier-to-use version of our MobilePlanner for LD robots is now available. This means that customers can now have a centralised PC version for (re)configuration and robot management and a simpler version that can be used anywhere in the facility for routine interaction.
The MobilePlanner Tablet interface enables users to see:
Location and status of robots in color-coded map
All alerts when robots need assistance
Robots' coordinates, battery level and travel speed
Job counts in current job queue
The tablet interface is FREE to download for both iOS and Android platforms and can run on other mobile devices in addition to tablets.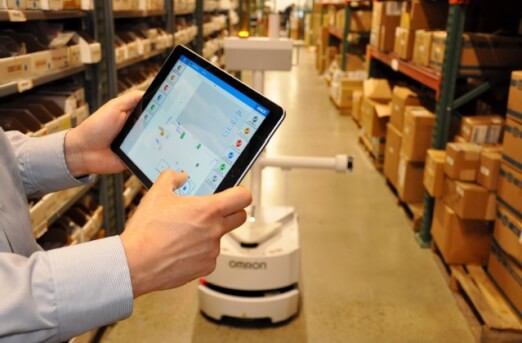 The new, simpler way to monitor and control the world-class range of Omron LD robots.
Easy-to-use troubleshooting and control
View robots' laser readings
Localize robots when needed
Send robots to dock or other points on map
Manually drive robots
Initiate map-making process
Flexible access control
Support user account and passwords
Control access levels
Control multiple LD mobile robots and Enterprise Managers
Følg OMRON Industrial Automation på LinkedIn