Fleet Manager
Factory optimization with best in class fleet management
Factory managers have constant pressure to meet a variety of improvement goals for their factory. Our fleet management solution is tailored to ensure best in class fleet management and provide built-in data capture, analytics and reporting to enable factories to optimize the performance of the overall factory as well as their Omron robot fleet.
Manage fleets up to 100 robots in any configuration
Displays robot location, status and job queue
Prioritizes important jobs
Selects fastest routes based on human and robot traffic
Identifies blocked paths and creates alternative routes
Optimizes job assignments and battery charging
Specifications & ordering info
| Produkt | Robot accessory type | Description |
| --- | --- | --- |
| | Hardware Kit | Primary Fleet Manager, EM2100 Base package, 120 Day Temporary FLOW Core License |
| | Hardware Kit | Secondary Fleet Manager, EM2100 Base package, 120 Day Temporary FLOW Core License |
| | Hardware Kit | Bundle. Fleet Simulator, EM2100 appliance and Perpetual Fleet Simulator License |
Compare products
Show more products
How can we help you?
If you have a question or would like to ask for a quote, please contact us or send a request.
+47 22 65 75 00
Contact us
Takk for din forespørsel. Vi vil kontakte deg så snart som mulig.
Vi har for tiden tekniske problemer. Ditt skjema har ikke blitt innsendt. Vi beklager så mye og håper du vil prøve igjen senere. Detaljer:
Download
Pricing
Request a quote
Takk for din tilbudsforespørsel. Vi vil sende deg det forespurte tilbudet så snart som mulig.
Vi har for tiden tekniske problemer. Ditt skjema har ikke blitt innsendt. Vi beklager så mye og håper du vil prøve igjen senere. Detaljer:
Download
Features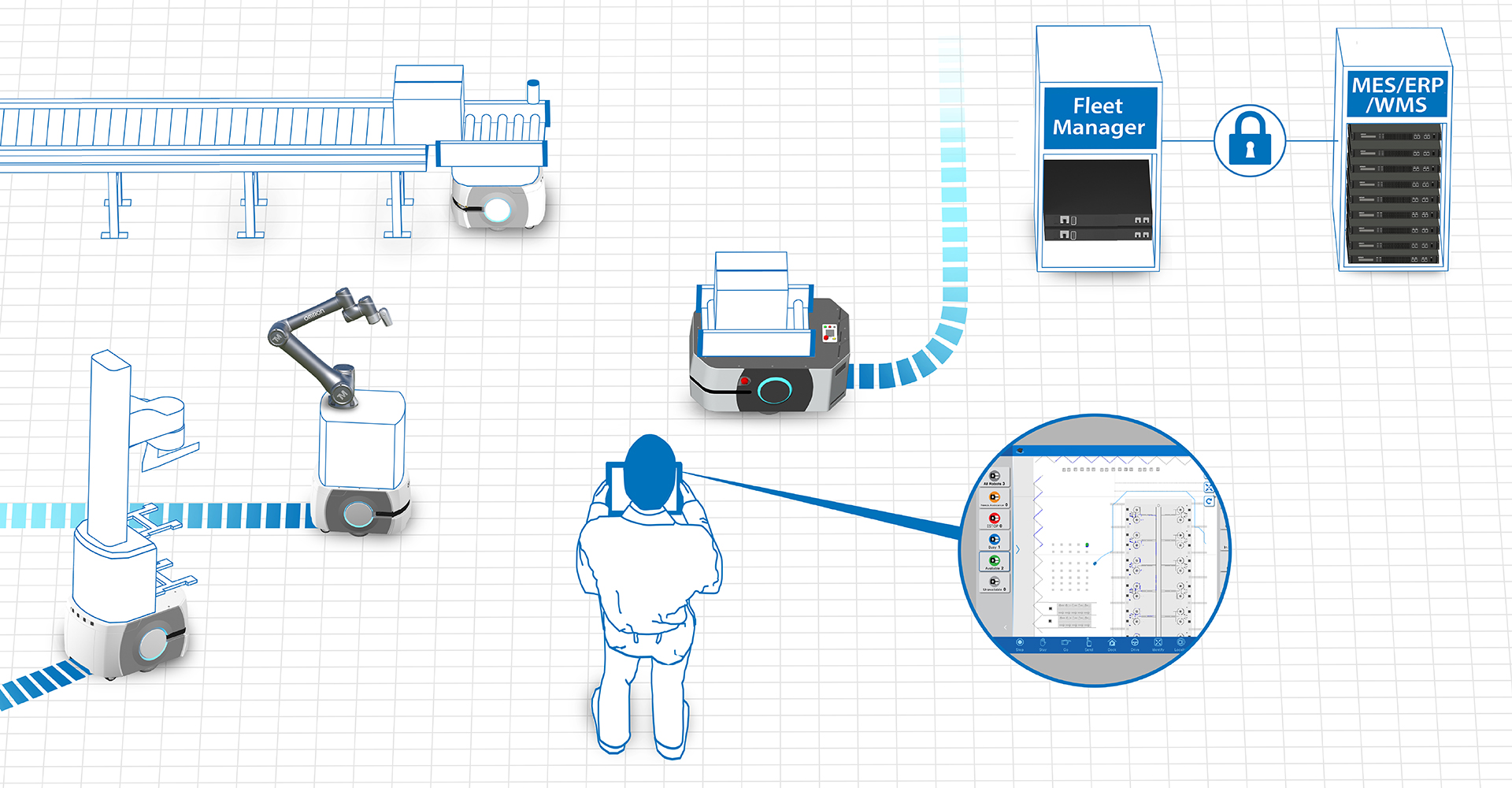 Powerful Fleet Management
The OMRON Fleet Operations Workspace (FLOW) solution provides an intelligent fleet management system that monitors mobile robot locations, traffic flow and job requests, ensuring your factory operates at peak efficiency. By automating robot tasks, our FLOW Core solution also reduces programming in your manufacturing execution systems (MES) or enterprise resource planning (ERP) system.
Fleet integration toolkit using industry standards such as Restful, SQL, Rabbit MQ, ARCL
Fleet Simulation: Small fleets (up to 10) can be simulated to new installations or factory changeovers
Increase fleet efficiency and job prioritization using more intelligent traffic rules
15% Reduction in Goal-to-Goal Travel Time
Improve fleet goal precision from ± 100mm to ± 25mm due to Cell Alignment Positioning System (CAPS)
Our PC- and tablet-based software interface helps you manage your fleet
Fleet Simulator
Solve problems before they arise. Optimize your fleet before you deploy it.
OMRON's Fleet Simulator offers the industry's first mobile robot simulator for factory and manufacturing applications. It plans traffic and workflows for fleets of autonomous mobile robots so customers can identify potential bottlenecks and optimize workflows without ever having to deploy a real robot.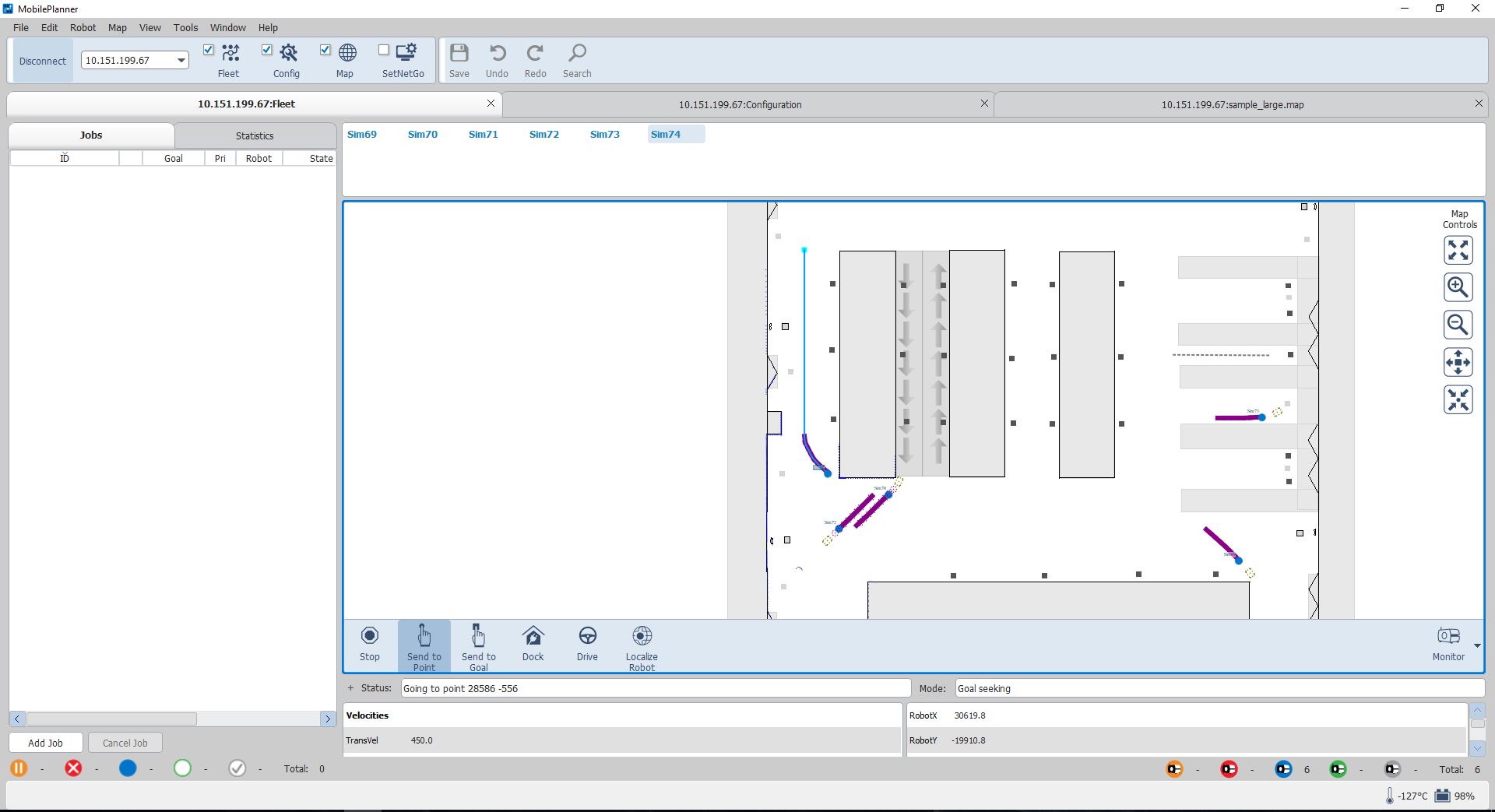 Fleet Simulator benefits:
Helps assess impacts of map changes, scaling, route changes, and new software features
Simulates up to 10 robots, in up to three separate fleets 
Visualizes individual robot path planning and interaction with other robots
Simulates custom environment based on real-world facilities
Identifies traffic flow bottlenecks
Helps validate third-party software 
Collect customized analytics for your factory.
OMRON's Fleet Simulator emulates robot behaviors including localization, path planning, obstacle avoidance and fleet management to provide valuable insight on performance in the real world. The system can simulate jobs to predict throughput and optimize fleet size in a map of an actual facility.
Easily manage your entire mobile ecosystem.
The OMRON Fleet Simulator is designed to be compatible with the OMRON Fleet Operations Workspace (FLOW) platform for mobile robotics. The simulator runs on the OMRON EM2100, which can be configured as a Fleet Manager, Backup Fleet Manager, and now a Fleet Simulator. To use an EM2100 as a Fleet Simulator, the device can be configured at the factory or with a software license in the field.
Customer Cases
OMRON mobile robots are fundamentally designed to meet the industry's latest requirements. Here you can explore a range of cases that show how our technology can serve as most advanced solution in fleet control.
Made-to-order production with an advanced fleet of mobile robots at VOLA
Customization and flexibility with high-speed manufacturing line and mobile robots at TePe
ŠKODA AUTO uses Omron's fully autonomous LD mobile robot at Vrchlabí plant
Mobile robots speed production at smart factory in Norway
Innovative production logistics at automotive manufacturer with Mini Smart Transport Robot MiniSTR
Markets
Made for Industry
With the largest install base in the world, OMRON mobile robots are deployed in thousands of applications across multiple industries.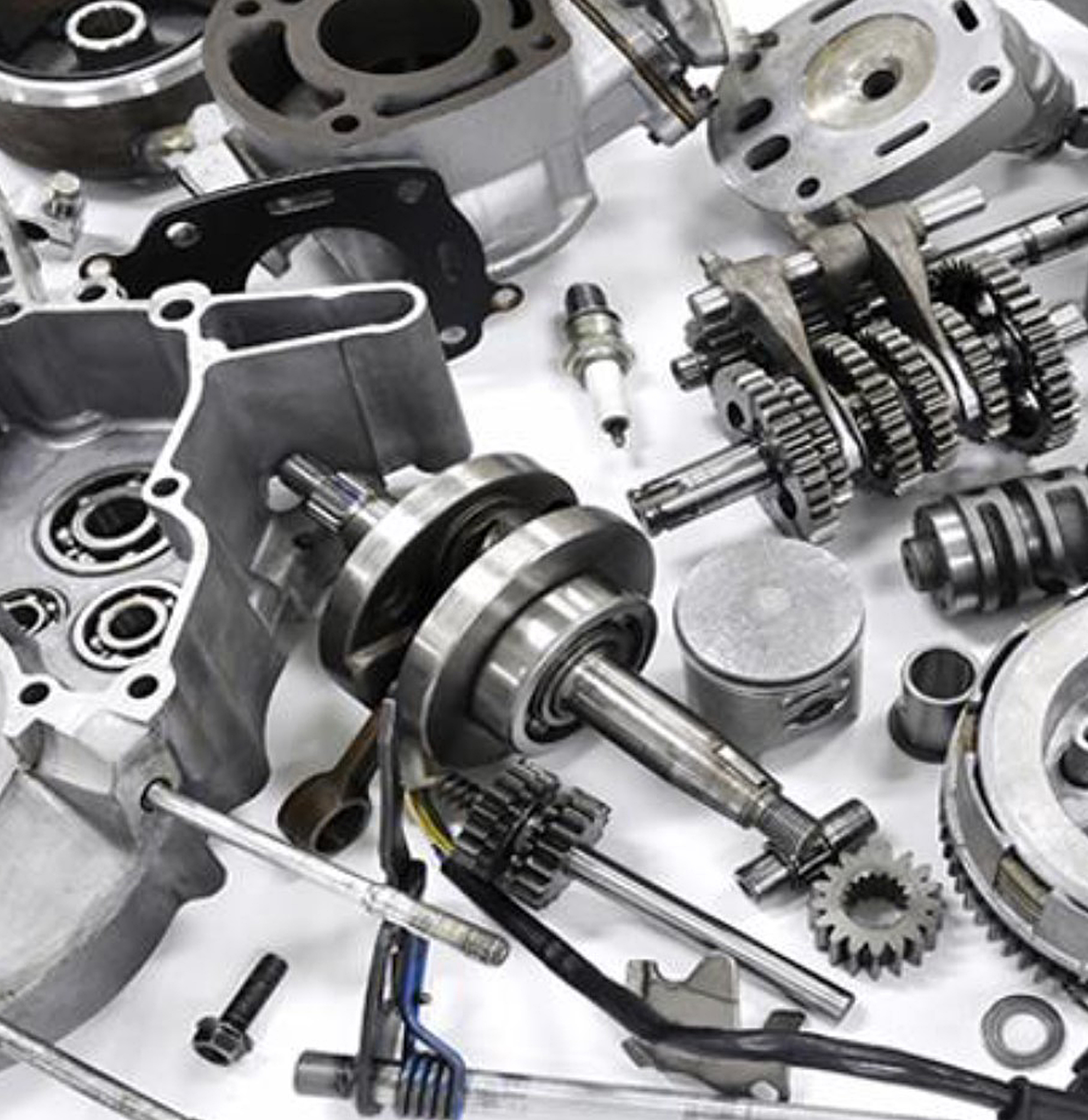 Automotive
Tire Assembly
Automotive Electronics
Automotive Accessories
Assembly and Inspection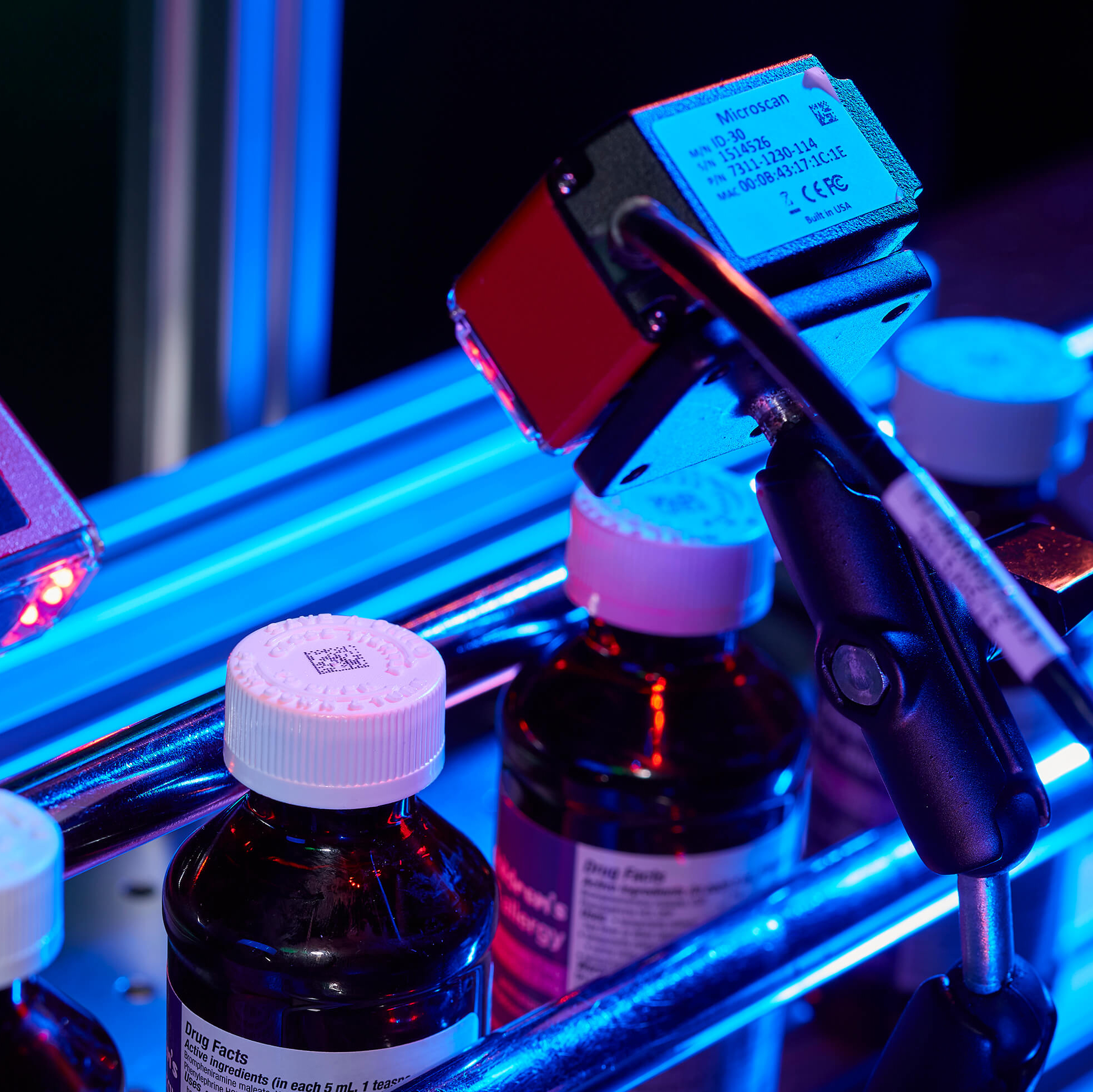 Pharma
Sterilization Room Transport
Laboratory Sample Transport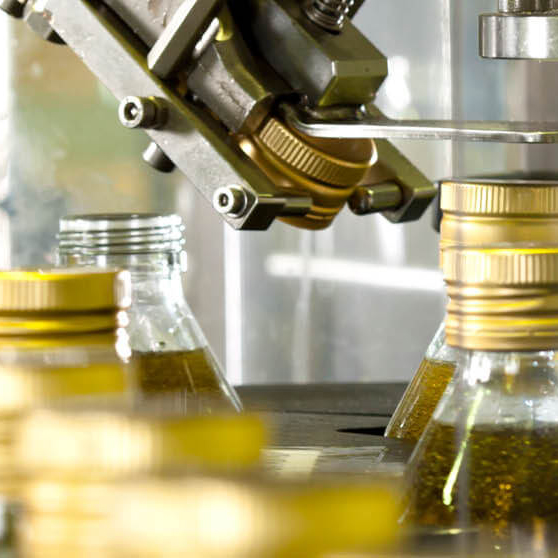 Food & Consumer
Stockroom Transport
Transport Goods to Assembly and Sorting Stations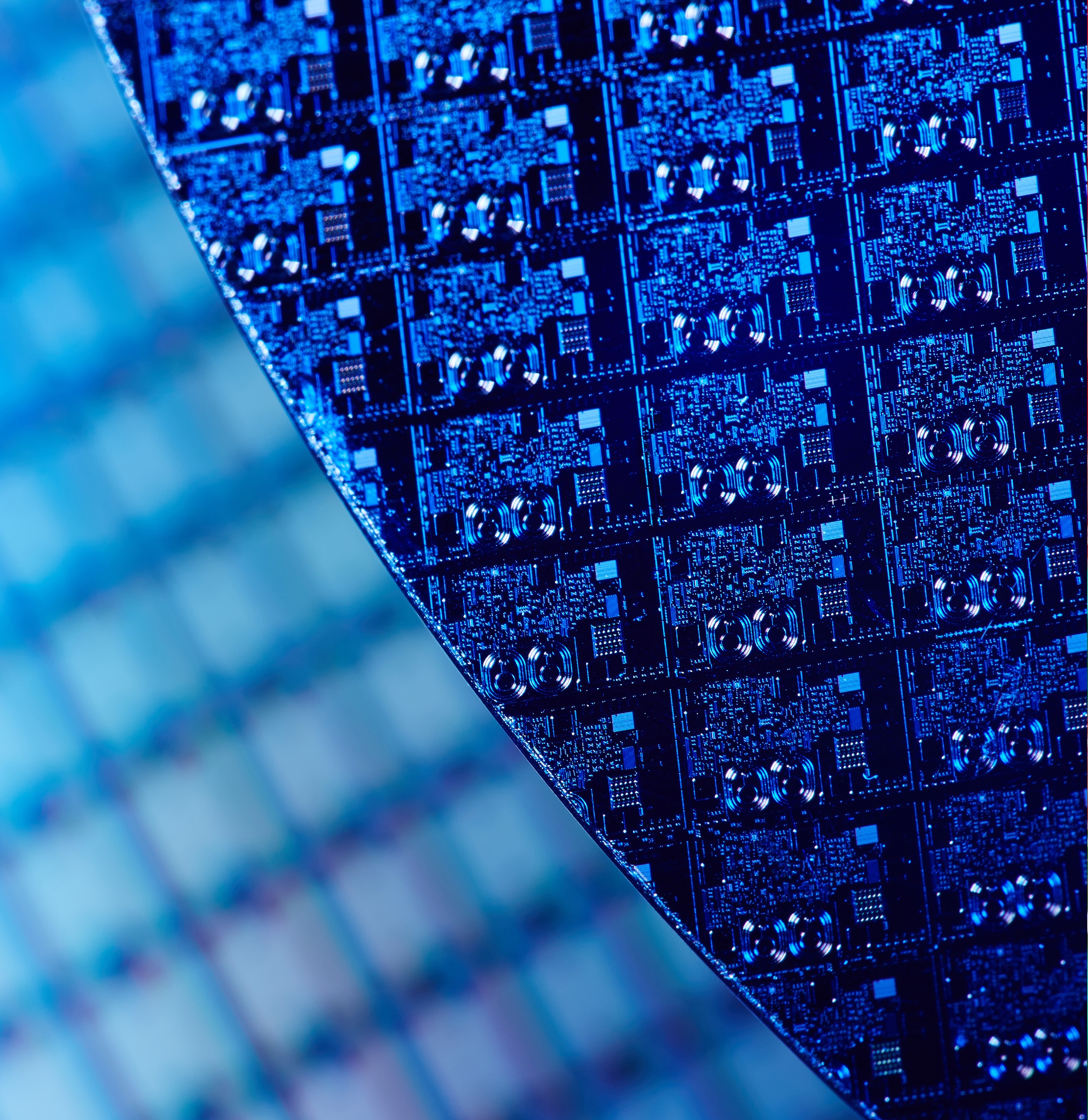 Digital
Semiconductor Wafer Fabrication
Semiconductor Packaging and Test
Mobile Device Manufacturing
Data Center Environmental Surveillance
Videos
Fleet management for mobile robots: Omron Enterprise Manager
Omron enterprise manager is our intelligent fleet management system for mobile robots. It continuously monitors and coordinates fleets up to 100 robots in warehouses and factory floors. - traffic control - intelligent job assignment - charge management - easy integration with IT - automatic updates - it enables robots to collaborate as a team
Omron Mobile Planner Tablet Edition - Intro
Introduction of the Omron Mobile Planner - an easy to use, portable, monitoring and control user interface tool for LD Mobile Robots.