Barcodes: keeping track of product quality
Publisert 2. oktober 2019 i Brand Protection
For many years, barcode technology has proved to be an economical and flexible identification technology. It has continued to develop and as a result, 1D and 2D codes (such as Datamatrix) are now used almost universally. Their versatility have made them a popular choice for streamlining many key supply chain processes, including production, logistics and item traceability.
Barcodes aren't just used for consumer goods (ranging from food and clothing through to mobile phone batteries). They also play a vital role in the pharmaceutical, medical, electrical, automotive and aerospace industries. However, barcode solutions come in many varied forms. The reading and printing methods used need to fit the specific application, which also determines the type of data processing used.
Product and supply chain traceability
Security, liability issues and traceability are important arguments for using barcodes, as well as their flexibility: they can be applied to almost any products, either as labels; printed directly; or marked with direct part marking (DPM) methods, such as laser etching or dot peen. This ensures that all key manufacturing and product data can be read at any point and managed in a database throughout the entire supply chain. If necessary, the data can also be linked with further information. This ensures the full traceability of virtually all products.
This is especially important for the medical and pharmaceutical industries. In recent years, governments worldwide have implemented initiatives in these sectors to improve product traceability. Machine-readable codes must be placed on each package and medical container so that products can be traced throughout the supply chain. This facilitates the detection of counterfeit items and illegal imports and exports.
Traceability is also important in other industries, such as the automotive, tobacco, electronics, food and cosmetics sectors – as well as the production of building materials. For each of these sectors, traceability plays a key role in quality assurance.
Barcode verification
For accurate traceability, it's vital that the barcode is checked, irrespective of how it's been applied. Both print quality and the structure and conformity of the data are important issues. For example, in the pharmaceutical industry, Stericycle Expert Solutions reported that in the first quarter of 2017, approximately 18% of the most important recall campaigns were triggered by incorrect labelling. Recalls are expensive and many can be prevented by verifying the barcode and label.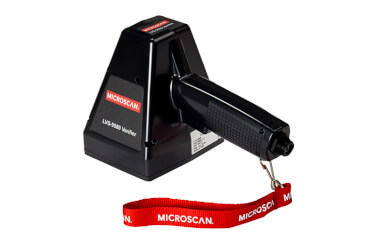 However, even properly applied barcodes can cause annoyance if they can't be read throughout the supply chain. At Omron, we've developed standardised barcode verification technology that enables suppliers to guarantee the barcode quality required by government regulations or customer requirements. This ensures that the verified codes can be read under all circumstances. For example, integrated offline solutions were developed to verify 1D and 2D symbols and to provide a test report. They allow symbols or codes to be checked immediately after being printed on the production line, to ensure that no poor-quality code leaves the factory. Offline and online verifiers can be easily be integrated into printers, markers and production lines.
Barcode reading
Once a product has a verified barcode label and code, this must be read in various places to link the product data with new or existing information in the database. For instance, manufacturing, packaging logistics and sales are very different areas with different environmental conditions and they all make specific demands on the barcode reading systems used.
This is why specialists such as Omron offer a comprehensive range of barcode readers that can read linear codes and 2D symbols, as well as powerful image processing systems. These include small solutions for embedded OEM applications and robust readers for industrial manufacturing environments. They incorporate features such as high-speed decoding, large field of view, symbol reconstruction and aggressive decoding algorithms. This ensures that they can read linear barcodes, stacked symbols or direct part marking reliably and accurately.
Barcode communications
Computers are often the key to transferring information from the factory floor to the database on the main server. However, this can be time-consuming and labour-intensive, as it involves both barcode identification and the integration of other data from the manufacturing process.
Omron offers practical alternatives that include, for example, high-performance controllers with an integrated database interface. This can communicate directly with the barcode readers and a central SQL database. This allows seamless communication between the barcode systems and the main server, without the need for users to worry about the various integration points.
In conclusion, barcodes have been used for decades but are still a highly effective identification solution. Because there are so many variants, it makes sense to use expert advice when choosing a suitable system. Our automation experts would be happy to help you with this.