Factory automation: four tips for the future of food & beverage manufacturing
Publisert 16. juli 2020 i Operational Excellence
The coronavirus pandemic has posed major challenges to organisations of all types and sizes. In the food and commodity industry, companies have faced significantly reduced consumption and disrupted supply chains, while at-home consumption increased, and out-of-home consumption came near to a standstill. But how can manufacturers adapt their business strategies and production processes both now and in the longer term? The pandemic may provide an opportunity for rethinking outdated processes and procedures and enhancing them with concepts such as innovative robotics, sensor technology and holistic automation strategies.
Companies must start working towards a future in which they increasingly use automation to boost their competitiveness and productivity. This will involve elements such as fixed, collaborative and mobile robotics, along with complementary monitoring and control, sensor and vision technologies, tailored to specific production needs. Food, beverage and commodity manufacturers should consider and focus their efforts on four key perspectives: optimising workforce resources; product quality and traceability; flexibility and customisation; and sustainability and innovation.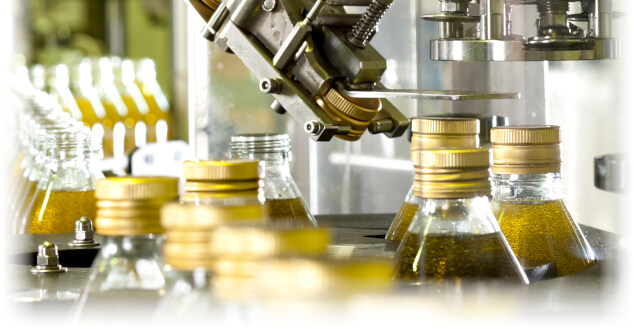 1. Optimising workforce resources
Millions of people are employed in the food and beverage sector and they will play a vital role in the factory of the future.  The pandemic has introduced new challenges, such as social distancing and tighter safety regulations. Automation can help in overcoming these challenges whilst also improving long-term safety and efficiency.  For instance, a collaborative robot (cobot) or mobile robot can carry out challenging and repetitive tasks so that employees can focus on more value-added roles.
Collaboration is key in this blend of people, machines, robots and artificial intelligence (AI). Robots can boost the speed and accuracy of processes while employees handle business-critical issues, customer communication and value-added tasks. Cobots and mobile robots can work alongside people to help with lifting or transporting goods and materials as well as tasks that employees can't do, due to distancing or safety rules
A practical example: One of Omron's partners carried out a project involving the replacement of manual labour with a fully automatic system for handling heavy rolls weighing up to 30 kilograms. Automating this exhausting task enabled the company to support its employees whilst boosting efficiency and productivity.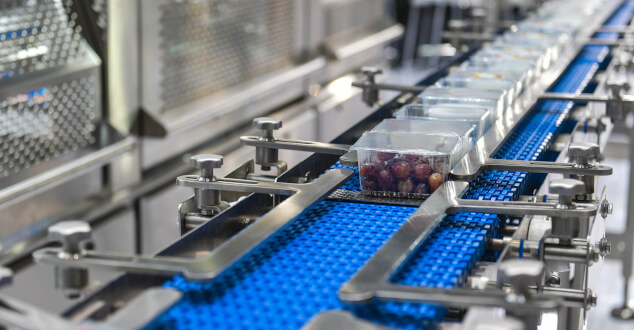 2. Product quality and traceability
Quality and traceability are increasingly important issues for both manufacturers and customers alike. For instance, barcodes are used in many different applications but must be of the highest possible quality. International regulations and detailed project specifications are driving the need for more reliable systems and tools that will ensure that barcodes are correct and readable.
Such systems can be adapted to check additional aspects of package design and integrity. The latest solutions can understand the quality grade and can give a proactive warning if it starts to decrease, enabling preventative maintenance actions that will avoid potentially costly errors.
Codes on packaging are becoming increasingly useful for consumers at the point of purchase. They can provide information about allergens or specific ingredients (such as gluten), or the country of origin. There's a close link between automation and traceability, which will ultimately reduce costs and protect the reputation of the producer.
A practical example: A barcode verifier that's integrated into a printer can be used to check labels while they are being printed. This helps to ensure that customers receive products with the correct information, labelling and barcodes – avoiding the need for the retailer to return goods or fine the supplier. Another example is a verification solution that uses vision systems or RFID, linked to production management software, to reduce issues connected with false codes or labels.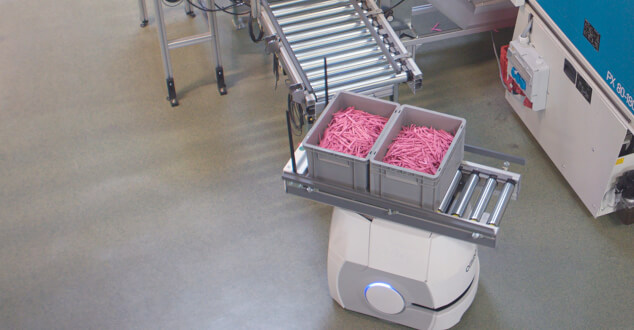 3. Flexibility and customisation
In many other industries, 'batch size 1' (or lot size 1) is an important goal for manufacturers. Although the food and beverage sector is still very reliant on volumes, increasing flexibility and agility should remain a priority for meeting growing customer demand and changing regulations.
A key automation element for a manufacturer to consider on production lines are mobile robots. Many solutions still rely on inflexible conveyor systems, whereas mobile robots provide the flexibility needed to move stock and consumables to the right locations at the right time.
A practical example: Mobile and collaborative robots enable companies to manage fluctuating demands and to develop a more flexible production environment. This ability to adapt and evolve will become even more important in the future. Cobots are easy to deploy and transport throughout the production area, assisting in the move towards greater flexibility. Mobile robots can change routes quickly, dynamically avoiding obstacles or working on different priorities. They can be customised with special accessories that provide even more versatility. Recently, Omron has developed a mobile manipulator (MoMa) solution that combines cobot and mobile technology.  
4. Sustainability and innovation
Sustainability is important to the majority of consumers, who prefer to buy products with as little packaging as possible. However, packaging both protects the item and provides useful information. Manufacturers need to strike a balance between these different drivers and must carefully consider the packaging materials they use.
Automation is closely connected with sustainability. For instance, accurately controlling temperature and pressure when sealing an item in packaging, ensures that the product is correctly and safely packaged, avoiding scrap and rework. Similarly, producers must consider many different variables, such as packaging thickness, ambient temperature and packaging film speeds – so they need a system designed with the functionality to capture and analyse real-time data.  This will enable them to work more effectively and act more sustainably in the future.
A practical example: An example of innovative technology is Omron's Sysmac AI Controller, a smart solution that collects, analyses and uses data at the 'Edge' to detect abnormalities, prevent failures and prolong equipment longevity. It combines the control functionality for  manufacturing lines and equipment with AI processing.
The food factory of the future
In the aftermath of the pandemic, food and commodity companies need to explore how they can improve processes utilising new automation technologies. These changes will help them to reduce employee workloads and realise value; increase the quality of processes and products; and act more flexibly and sustainably. Suitable solutions will include smart and connected systems that combine robotics, cobots, vision and sensor technology with strong data collection and analysis, human-machine interaction and full traceability. This will equip them with real-time insights for a successful, customer-focused future.