Buying or Leasing? How to finance your new cobot
Publisert 26. april 2023 i Operational Excellence
Food for thought for SMEs when funding automation projects
Skills shortages, digitization, sustainability, and energy-saving plans are accelerating automation projects in many companies. Once manual processes that lend themselves to automation have been identified, the next question that usually follows is: And what does it all cost?
It can make sense to consider options such as leasing or robot-as-a-service. One example of tools that give small and medium-sized enterprises (SMEs) in particular a better overview the financial aspects of automation is the ROI calculator from OMRON. Anyone currently considering the purchase of a cobot or AMR can use this tool to reveal the return on investment.
Using cobots to combat the shortage of skilled workers
Manufacturing plants are short of skilled workers. A BCG survey conducted in seven countries in 2022 found that employers are at risk of losing up to 37 percent of their employees who do not have a typical desk job but work in production, maintenance, or service in the next months. Nearly one-third of these workers are already planning to leave the company where they are currently employed. Companies that cannot find a replacement will have to rethink production processes and implement technologies that can reduce manual processes. But how can such investments be financed? Is buying or leasing the better option?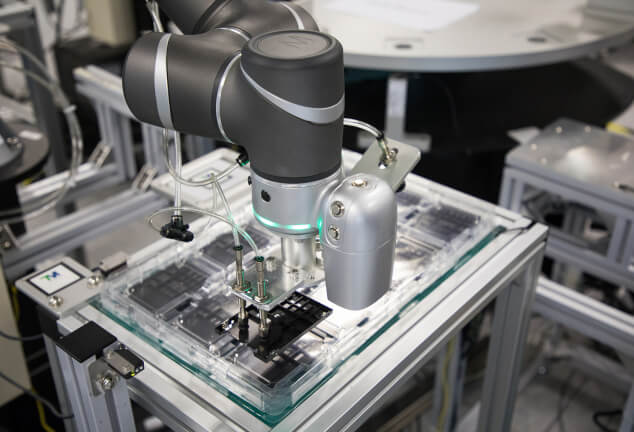 One technology that companies might consider first is collaborative robotics. Cobots do not require a high investment and often offer a fast ROI, which makes this technology more attractive than traditional industrial robots if used in the right applications. Cobots can be used in a broad range of applications. They are easy to deploy for different activities and the design and the implementation of the application can be done quickly. Key applications include material and product handling, assembly, and disassembly, welding and soldering, dispensing, and others. 
Here's a little food for thought:
It is easier to weigh an investment against the costs per product. For example, the price of purchasing a cobot application is 100,000 euros and you calculate over a period of three years. During this time, you produce 8,640,000 products which corresponds to a cycle time of five seconds per product if production runs for 20 hours per day and 200 days per year. In this particular example case, the investment per product is one cent. The investment in a cobot is therefore much lower than many people assume.
The total investment cost is usually approximately equal to the average annual salary of a production employee. Based on this calculation, the investment can pay for itself after just one year or even faster. 
SMEs in particular are often still reluctant to purchase a cobot because they are concerned about budget, cash flow, CAPEX, or lengthy project approvals. Leasing can be a good alternative here, as cash flow or seasonal fluctuations are not an issue. Leasing offers added flexibility, allowing smaller companies to reap the benefits of automation through cobots.  Leasing also falls under the heading of operating expenses (OPEX): the expense is paid monthly, and investments can thus be better monitored and planned.
If the leasing contract also includes maintenance and service, it is easier and clearer to keep the cobot fleet up to date and running without having to budget for additional costs. Plus, the cobot is always available – eliminating downtime. Automation costs the most when it breaks down. That's why continuity must be guaranteed.
When it comes to leasing offers, it is important to ensure that financing options can be customized, as no two companies are the same. It is also ideal if the rates can be adjusted to cushion any cash flow bottlenecks. In addition, there should be the option of working with a financial service provider or even the company's bank to be more flexible.
The complete solution should be covered. A robot needs tools, peripherals, bases, and more. Therefore, the system integrator and cobot manufacturer should offer a complete solution that can also be financed holistically. Patchwork solutions are not very effective.
Many SMEs wonder how to finance a new investment. OMRON's ROI calculator shows two options: the traditional CAPEX option with full payment at the beginning and an OPEX option with leasing, where payments are split over three to five years. 
Contact us for more information