The path to net zero: talking tactics
Publisert 1. februar 2023 i Sustainable Manufacturing
The key to unlocking a net zero future in manufacturing is transforming the value chain through automation.
In June 2022, New Scientist reported that a third of the world's largest companies had net zero targets - significantly more than the same time last year.
Whilst it is positive news that momentum is accelerating, the article went on to say that the details of how companies were planning to reach net zero were patchy.
Which is not surprising really. Creating and implementing a net zero strategy is a huge undertaking for any business, especially with 80% of GHG emissions falling into Scope 3 - that is emissions that occur upstream or downstream in the value chain. This is a particular challenge for FMCG companies, whose supply chains and onward logistics are long and complex.
Most of these businesses know what they need to do: decarbonise and circularise the value chain. And they have a strategy for doing this, which will generally cover: optimising the use of resources and energy, replacing high emission products and processes and eliminating waste.
But translating intention into action is where the main challenge lies. This is where automation has a crucial role to play.
Data collection and analysis is the key to successful net zero transition. Without it, how do companies know what their starting point is, where they need to improve, whether they have improved and by how much? Robust data is the foundation for turning a commitment into change, and for credibly and confidently communicating with stakeholders and delivering on climate ambitions.
Automation delivers the data
Optimise. Measure. Monitor. Analyse. Predict. Act. Report. These are the data-driven activities that companies need to undertake to make tangible progress towards net zero. And automation is the agent of change that is often overlooked when considering how to acquire the necessary data. As well as delivering efficiencies that will feed into emission reduction goals, automation is a digital resource waiting to be mined. The best way to capture the data businesses need to meet their net zero commitments is through digitisation and sensorisation of the entire value chain.
Businesses should have no qualms about asking their suppliers to engage in data sharing and invest in automation that will enable greater visibility into the contribution they are making to their carbon footprint. Indeed, integration between all players in the value chain is the key to harnessing the data capture potential of automation.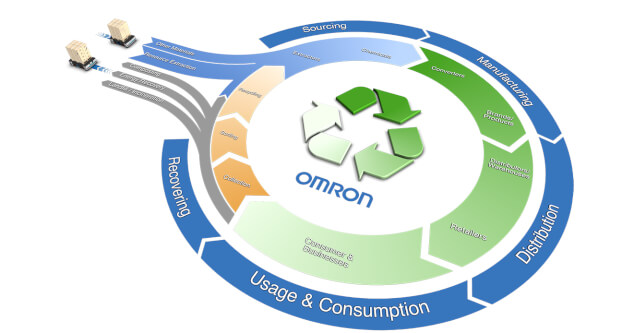 Automation throughout the value chain
Working through the FMCG value chain, here are some examples of how automation can support a net zero strategy:
Automated farms: irrigation systems that optimise water usage, solar panels for energy production and automated light exposure are three ways in which fresh produce farms at the start of the value chain can embrace automation. The use of camera-based inspection systems and automated product handling systems will also eliminate human error and reduce waste.
Sustainable manufacturing: intelligent energy management systems at a factory, line and machine level will improve both productivity and energy use. This could include optimising machine maintenance with advance analytics and reducing emissions with remote monitoring and Augmented Reality (AR) assistance.
Robotic intralogistics: replacing forklifts with autonomous mobile robots in warehouse environments will have an immediate impact on GHG emissions as it eliminates the use of fossil fuels. This goes hand in glove with maximising the use of space on the warehouse floor to reduce movements and energy consumption.
Intelligent fleet management: the use of sensors in vehicles can monitor driving efficiency for fuel optimisation purposes. This data can be captured by logistics providers and shared with the manufacturer, for example. Automation can also support optimised route planning, material movements and transportation patterns.
Automated container recovery: there's no point designing a recyclable container if it never ends up being recycled. However, only 9% of plastic waste is successfully recycled, according to a new OECD report. Container recovery stations that rely on camera-based technology to differentiate between streams are one solution to this problem. These can be located in shopping centres, retail outlets etc to boost container recovery.
Improved identification & sorting: it's not just recovery but also sorting that is a major barrier to improving recycling rates and the quality of recycled materials. The Holy Grail project, which is trialling digital watermarks for more effective sorting and identification of packaging, is a great example of how automation can assist the transformation to a circular economy and what can be achieved with cross-chain collaboration. Once the packaging has entered into a waste sorting facility, the digital watermark can be detected and decoded by a high-resolution camera on the sorting line, which then - based on the transferred attributes - is able to sort the packaging into corresponding streams.
Finding an automation partner
Whether leveraging automation for net zero targets involves sensorisation or digitisation, it is essential that the data gets analysed as well as captured. Analysis requires specialist skills and if businesses do not already have this expertise in-house they will need to develop the skills or engage a specialist.
It's also worth remembering that it is not just ingredient suppliers, packaging providers and logistics partners who will impact carbon footprint. When choosing an automation partner, it is important to evaluate their sustainability record and their policy on Extended Producer Responsibility (EPR). E-waste is becoming a huge problem in Europe and managing disposal of equipment at the end of its useful life is a challenge that is going to increasingly come under the spotlight. OMRON takes full responsibility for the end of life management all of its equipment, taking the burden away from its customers.
Reaching destination net zero
Every FMCG business needs to reach carbon neutrality by 2050 - or earlier - to satisfy regulators, consumers, retailers, shareholders and financial institutes. The road will be a challenging journey, requiring a deep transformation, but there's no doubt automation is one of most direct routes to destination net zero.
Contact us for more information