Improving quality of EV battery inspection process
It is difficult to set inspection parameters to differentiate defective products from good products, especially when part of the inspection process is manual. Using AI inspection can dramatically reduce over detected or overlooked defects. 
Challenge
EV battery manufacturers often rely on seasoned visual inspection workers to meet the increasingly demanding quality requirements of their products. However, to increase production volume, reducing visual inspection effort and improving yield are necessary. 
Solution
Our solutions enable reliable image inspections powered by AI that can learn the difference between defective and non-defective products to make judgments with neither too little nor too much scrutiny. OMRON has a proven performance history in delivering optimal EV battery inspections that use AI to selectively detect dents and foreign matter. Our general-purpose image controllers are equipped with unique AI features and a wealth of image processing technologies that we have developed over the years.
Watch this video to learn more about our solution that delivers reliable inspection
Learns variation in good products from images
Extracts features not found on good products as defects
Resistant to variation in good products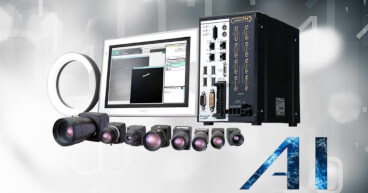 The image processing system identifies subtle defects with human-like sensitivity to achieve higher defect detection rates.
READ MORE