Italian food manufacturer CLECA SpA has recently automated some of its processes using cobots from OMRON, leading to higher productivity in its packaging department.
CLECA was formed in Italy in 1939 and has since developed creative cuisine solutions, leading to the company becoming a point of reference in the food sector, due to the high quality of its products. The key to its success is its blend of innovative products and great classics, as shown by its S. Martino pudding.
The company recently decided to improve its maintenance and shipping operations by boosting the productivity of the entire packaging department at its main plant in San Martino dall'Argine. An essential element of this has been the introduction of a pair of collaborative robots.
Cobots help to power CLECA forward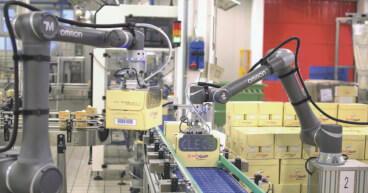 Following CLECA's review of its packaging processes, it decided to deploy OMRON TM12 cobots at the end of the packaging line, in a palletizing application. This decision was received very well by the operators, who soon noticed a clear improvement in their work conditions. They experienced a reduction in repetitive operations (as these were delegated to the machine), as well as improved change-over times.
The introduction of cobots at CLECA coincided with the implementation of key automation solutions relating to Industry 4.0, including the connection and interface with the factory's manufacturing execution system (MES). The integration of the collaborative cell and the machines present in the plant was made possible by the Ethernet communication integrated between various OMRON programmable logic controllers in CLECA's San Martino dall'Argine plant. The increase in productivity and process efficiency achieved by using the cobots, combined with the reduction of indirect costs, will enable CLECA to achieve a return on investment (ROI) in less than a year from the start-up of the collaborative cell.
Contact us for more information