Cleca, the San Martino-based company known for its sweets mix and savory dishes, chose OMRON and its new IoT data analysis service to optimize the efficiency of its ready-made broth line, which was considered insufficient to meet current demand. The upgrade, performed without installing new machinery, has enabled the Mantuan brand to produce over 800,000 cartons from the line per month.
Cleca is a company known to the large-scale retail trade, both within Italy and internationally, for its wide range of food products—including sweets mix and savory dishes, seasonings and bouillon cubes—distributed under various brands and united by the demand for high certification standards.
In recent years, the company's business has adapted to new market trends and, in particular, to the high demand for ready-made products, which have become incredibly popular all over the world, especially in large cities, because of their convenience. The focus was mainly on ready-to-use broth, a product with double-digit growth factors that prompted the Mantuan company to review its technological infrastructure.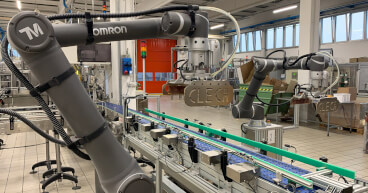 Assisting Cleca on its quest for technological modernization was the OMRON team and, in particular, the task force that for several years has been overseeing i-BELT, a service that uses the principles of the Internet of Things (IoT) and data analysis to improve the efficiency of automated systems.
Contact us for more information