Novio Packaging has selected an OMRON FH series Vision System for use in its bottle production line in Denmark. The solution ensures that all of the bottles shipped to customers are of the highest quality, with no defects.
The Novio Packaging Group produces and distributes primary packaging and packaging solutions for various markets from pharmaceuticals and cosmetics through to the food and domestic non-food industry, since 1978. The group is part of Berlin Packaging, the world's largest packaging distributor.
The challenge: A need for accuracy and flexibility
The Danish factory needed a sophisticated and flexible quality inspection system to cope with changes in the types of bottles being produced, and to achieve the right levels of quality. It explored systems that proved to be ineffective, as they were insufficiently accurate and users couldn't make adjustments or programme the software themselves. The company subsequently started looking for a system that would eliminate defects down to one bottle out of 100,000.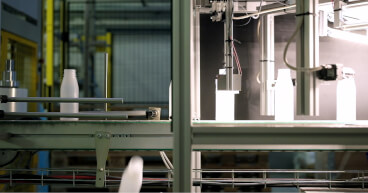 The solution
As a result of its investigations, Novio opted for a versatile solution from OMRON. This included OMRON's FH vision system as well as its FQ2 cameras. The OMRON system is used on the production line, and incorporates lights and cameras set at different angles so that they can detect any defects, such as scratches or dust, that would affect the quality of a bottle.
Peter Lykke, Novio Packaging's Technical Manager, explains: "We use the FH vision system with four cameras to check the bottles we produce from all sides, to ensure that there isn't any dirt and there are no black spots etc. on the bottles. The cameras carry out the checks on running conveyors, so we don't need to stop the bottles for inspection."
Contact us for more information