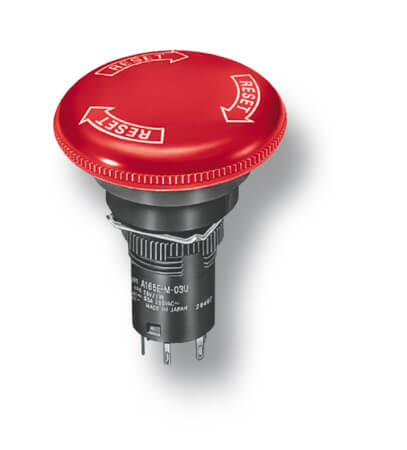 A165E
Emergency stop switch
The A165E line-up offers E-Stop switches with various head types. For flexible application, a wide range of accessories is provided. To set up easy installation and maintenance, various contact combinations are available.
Direct opening mechanism with minimum contact separation of 3mm
Safety lock mechanism prevents misuse
Short mounting depth
Modular construction; easy installation using snap-in switch
Specifications & ordering info
Ordering information
Standard load
(125 VAC at 5 A,
250 VAC at 3 A,
30 VDC at 3 A)
Note: The above models have a surface indication of "RESET." Models with "STOP" indication are also available. For further information, contact your Omron representative.
Accessories (order separately)
Used for covering the panel cutouts for future panel expansion.

Useful for repetitive mounting. Be careful not to tighten excessively.
Specifications
1,000 VAC, 50/60 Hz for 1 min between terminals of same polarity
2,000 VAC, 50/60 Hz for 1 min between terminals of different polarity and also between each terminal and ground
1,000 VAC, 50/60 Hz for 1 min between lamp terminals 1

Operating: -10 to 55°C (with no icing or condensation)
Storage: -25 to 65°C (with no icing or condensation)
---
How can we help you?
If you have a question or would like to ask for a quote, please contact us or send a request.
+47 22 65 75 00
Contact us
Kontakt meg A165E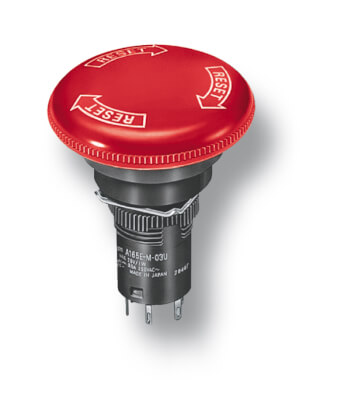 Takk for din forespørsel. Vi vil kontakte deg så snart som mulig.
Vi har for tiden tekniske problemer. Ditt skjema har ikke blitt innsendt. Vi beklager så mye og håper du vil prøve igjen senere. Detaljer:
Download
Request quotation
Request quotation
Tilbud for A165E
Ved å fylle ut dette skjemaet vil du motta et tilbud på det valgte produktet. Vennligst fyll inn alle obligatoriske felter. Dine personlige opplysninger vil bli behandlet konfidensielt.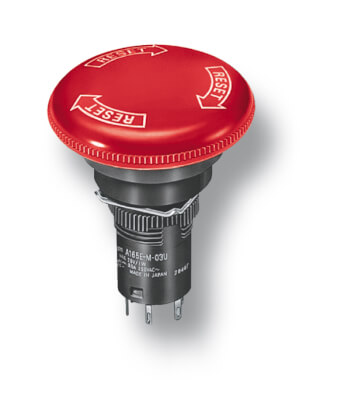 Takk for din tilbudsforespørsel. Vi vil sende deg det forespurte tilbudet så snart som mulig.
Vi har for tiden tekniske problemer. Ditt skjema har ikke blitt innsendt. Vi beklager så mye og håper du vil prøve igjen senere. Detaljer:
Download