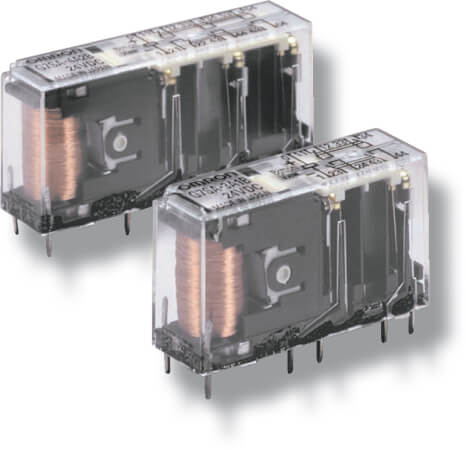 G7SA
Relays with forcibly guided contacts
The slim G7SA relay family with forcibly guided contacts is available as a four or six-pole type in various contact combinations and offers reinforced insulation. Terminals are arranged for easy PCB layout. It can be soldered directly to a PCB or used together with the P7SA sockets.
Forcibly guided contacts
Conforms to EN 50205
6 A at 240 VAC and 6A at 24 VDC for resistive loads
Reinforced insulation between inputs, outputs and poles
4- and 6-pole relays available
Sockets available with Push-In technology
Specifications & ordering info
Ordering information
Relays with forcibly guided contacts
Sockets
Specifications
Coil
Note: Refer to datasheet for details
Contacts
Relays with forcibly guided contacts
100 mΩ max. (The contact resistance was measured with 1 A at 5 VDC using the voltage-drop method.)

Operating time 2

Response time 1

10 ms max.
(The response time is the time it takes for the normally open contacts to open after the coil voltage is turned OFF.)

Release time 1

100 MΩ min. (at 500 VDC) (The insulation resistance was measured with a 500 VDC megger at the same places that the dielectric strength was
measured.)

Between coil contacts/different poles: 4,000 VAC, 50/60 Hz for 1 min
(2,500 VAC between poles 3-4 in 4-pole Relays or poles 3-5, 4-6, and 5-6 in 6-pole Relays.)

Between contacts of same polarity: 1,500 VAC, 50/60 Hz for 1 min

10,000,000 operations min. (at approx. 36,000 operations/hr)

100,000 operations min. (at the rated load and approx. 1,800 operations/hr)

Min. permissible load5

Ambient temperature 6
Note: The values listed above are initial values.
Please check Omron in the Internet for updated information on product reliability data and the SISTEMA libraries: http://industrial.omron.eu/safety
---
How can we help you?
If you have a question or would like to ask for a quote, please contact us or send a request.
+47 22 65 75 00
Contact us
Kontakt meg G7SA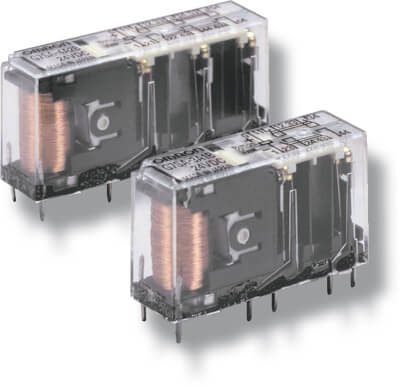 Takk for din forespørsel. Vi vil kontakte deg så snart som mulig.
Vi har for tiden tekniske problemer. Ditt skjema har ikke blitt innsendt. Vi beklager så mye og håper du vil prøve igjen senere. Detaljer:
Download
Request quotation
Request quotation
Tilbud for G7SA
Ved å fylle ut dette skjemaet vil du motta et tilbud på det valgte produktet. Vennligst fyll inn alle obligatoriske felter. Dine personlige opplysninger vil bli behandlet konfidensielt.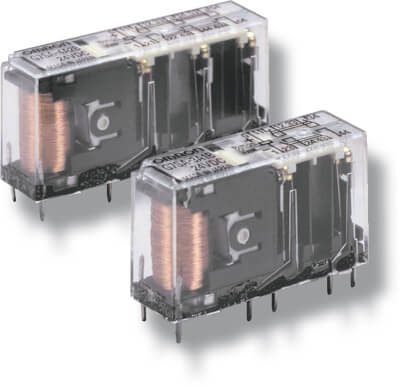 Takk for din tilbudsforespørsel. Vi vil sende deg det forespurte tilbudet så snart som mulig.
Vi har for tiden tekniske problemer. Ditt skjema har ikke blitt innsendt. Vi beklager så mye og håper du vil prøve igjen senere. Detaljer:
Download