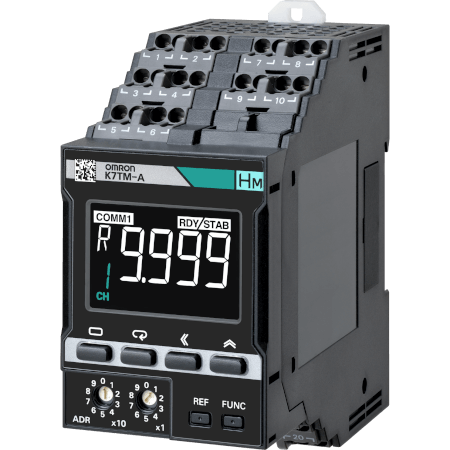 K7TM-A2
Heater resistance monitoring device
The new K7TM condition monitoring device is designed to measure the deterioration trend of heaters used in the automotive, food & commodity industries. K7TM supports predictive maintenance to avoid costly production losses or downtime. The optimal time for maintenance or replacement of the heater is indicated at an early stage.
Automatic measurement of the heating resistance during operation for trend analysis of aging
Enables condition monitoring both on-site and remotely without the need for site visits
Existing devices and systems can be retrofitted very easily on site
Support 2 heaters per monitoring unit
Capable of measuring up to 600A AC heater current
K7TM triggers warnings and alarms when a certain threshold is reached, allowing the user to determine the optimal time to service or replace the heater
How can we help you?
If you have a question or would like to ask for a quote, please contact us or send a request.
+47 22 65 75 00
Contact us
Kontakt meg K7TM-A2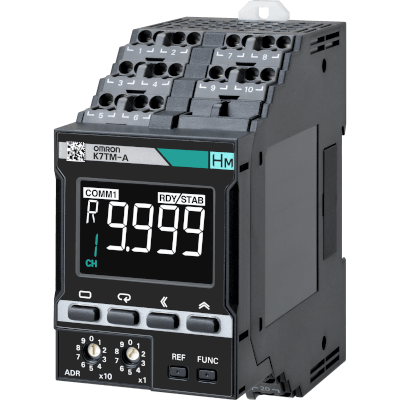 Takk for din forespørsel. Vi vil kontakte deg så snart som mulig.
Vi har for tiden tekniske problemer. Ditt skjema har ikke blitt innsendt. Vi beklager så mye og håper du vil prøve igjen senere. Detaljer:
Download
Request quotation
Request quotation
Tilbud for K7TM-A2
Ved å fylle ut dette skjemaet vil du motta et tilbud på det valgte produktet. Vennligst fyll inn alle obligatoriske felter. Dine personlige opplysninger vil bli behandlet konfidensielt.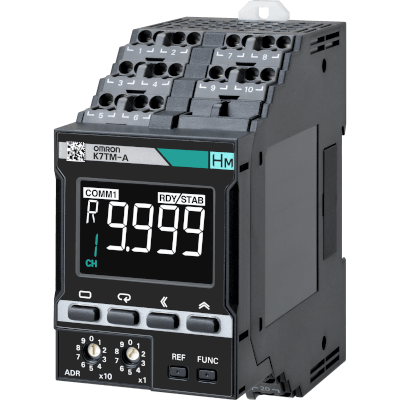 Takk for din tilbudsforespørsel. Vi vil sende deg det forespurte tilbudet så snart som mulig.
Vi har for tiden tekniske problemer. Ditt skjema har ikke blitt innsendt. Vi beklager så mye og håper du vil prøve igjen senere. Detaljer:
Download
Features
Measurement method
K7TM can monitor the health and trend of the heater based on the rate of change of resistance value, allowing it to determine when replacement is required to utilize the remaining lifetime. Downtimes are reduced and maintenance independent of specialists is possible.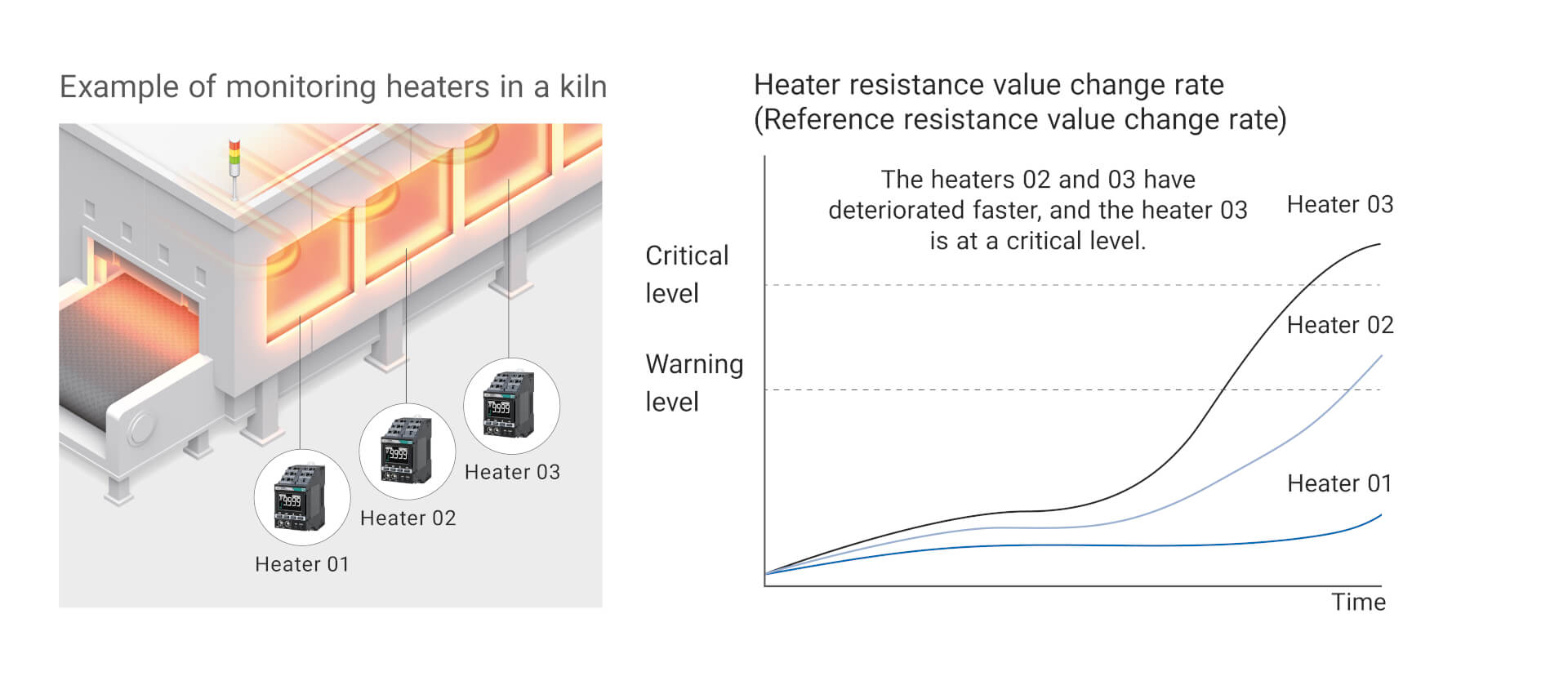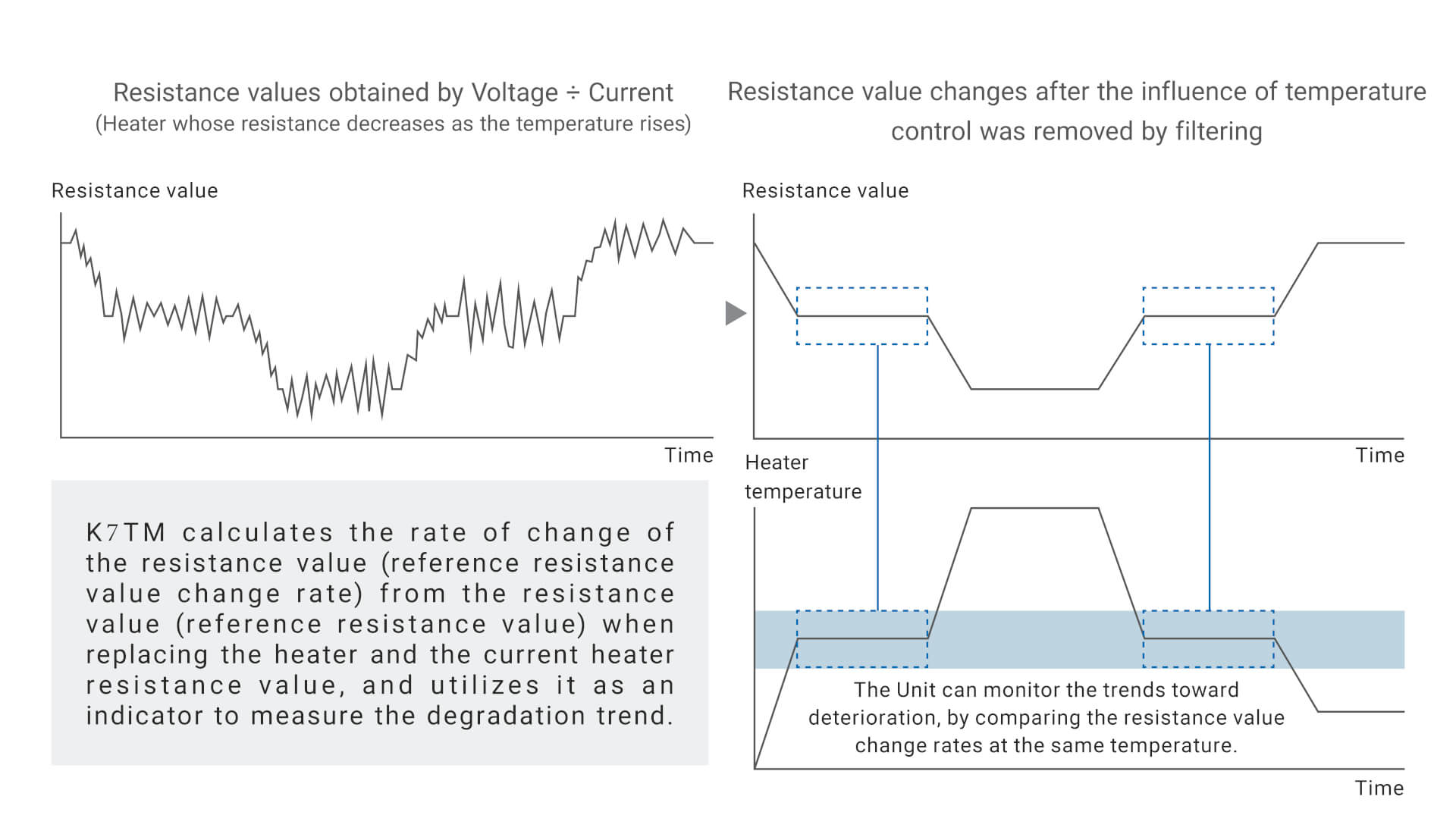 Heater resistance value trends
K7TM is able to measure the resistance values independently of these influences by filtering them out of this calculation. In addition, K7TM is able to monitor heater resistance degradation trends by comparing them to historical resistance values when used in the same environment.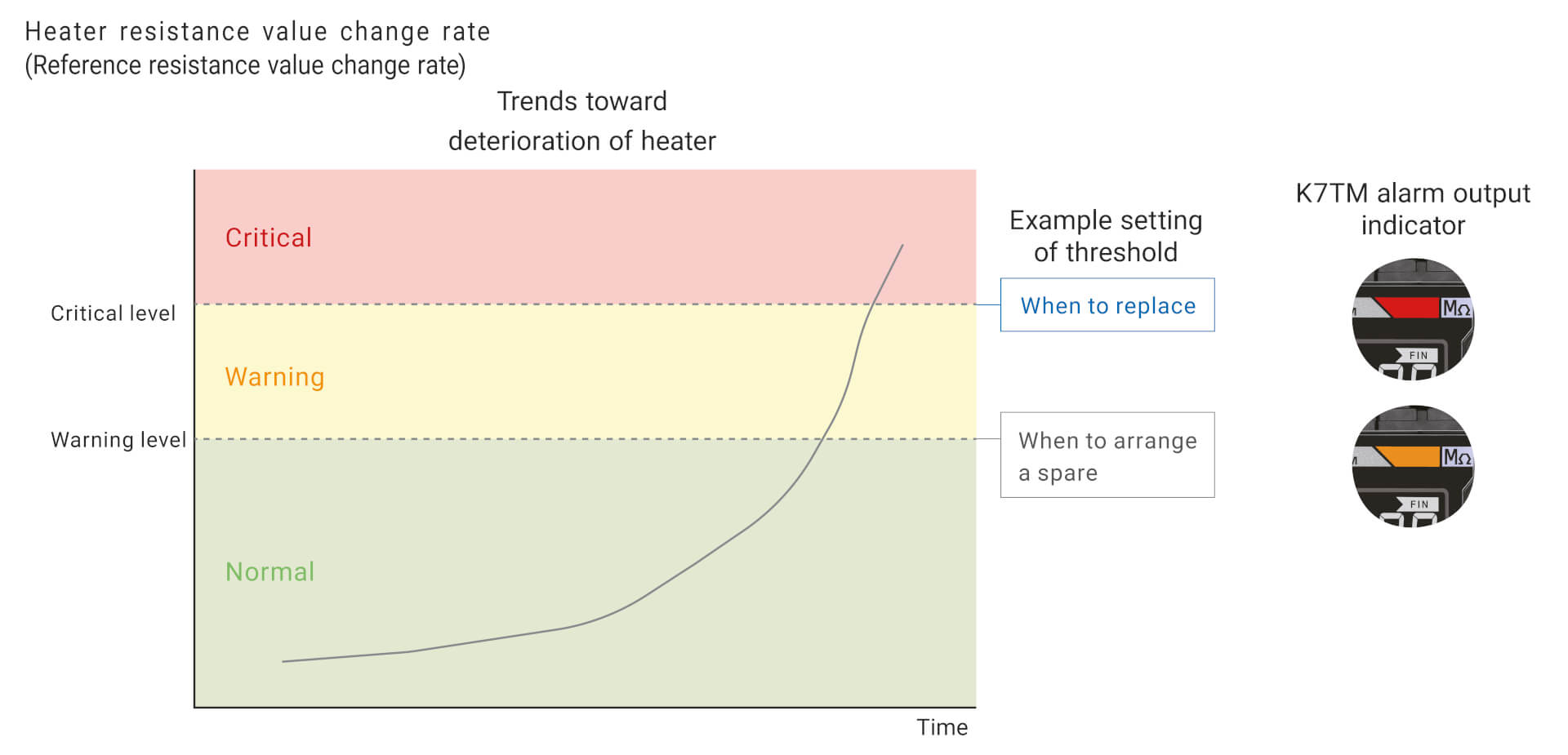 Warning and alarm display
Until now, it has been difficult to determine the right time to service and replace heating elements. K7TM can detect deteriorating trends in the rate of change of heater resistance values and trigger alarms when a threshold is reached, the user is able to determine the optimal time for heater maintenance or replacement.
By quantifying heater deterioration and setting the threshold according to the situation, it is possible to maintain heaters independent of human experience.
Simple retrofitting of existing devices
Condition monitoring can be achieved by using a current transformer clamp on the heater power line and connecting voltage leads on each side of the heater.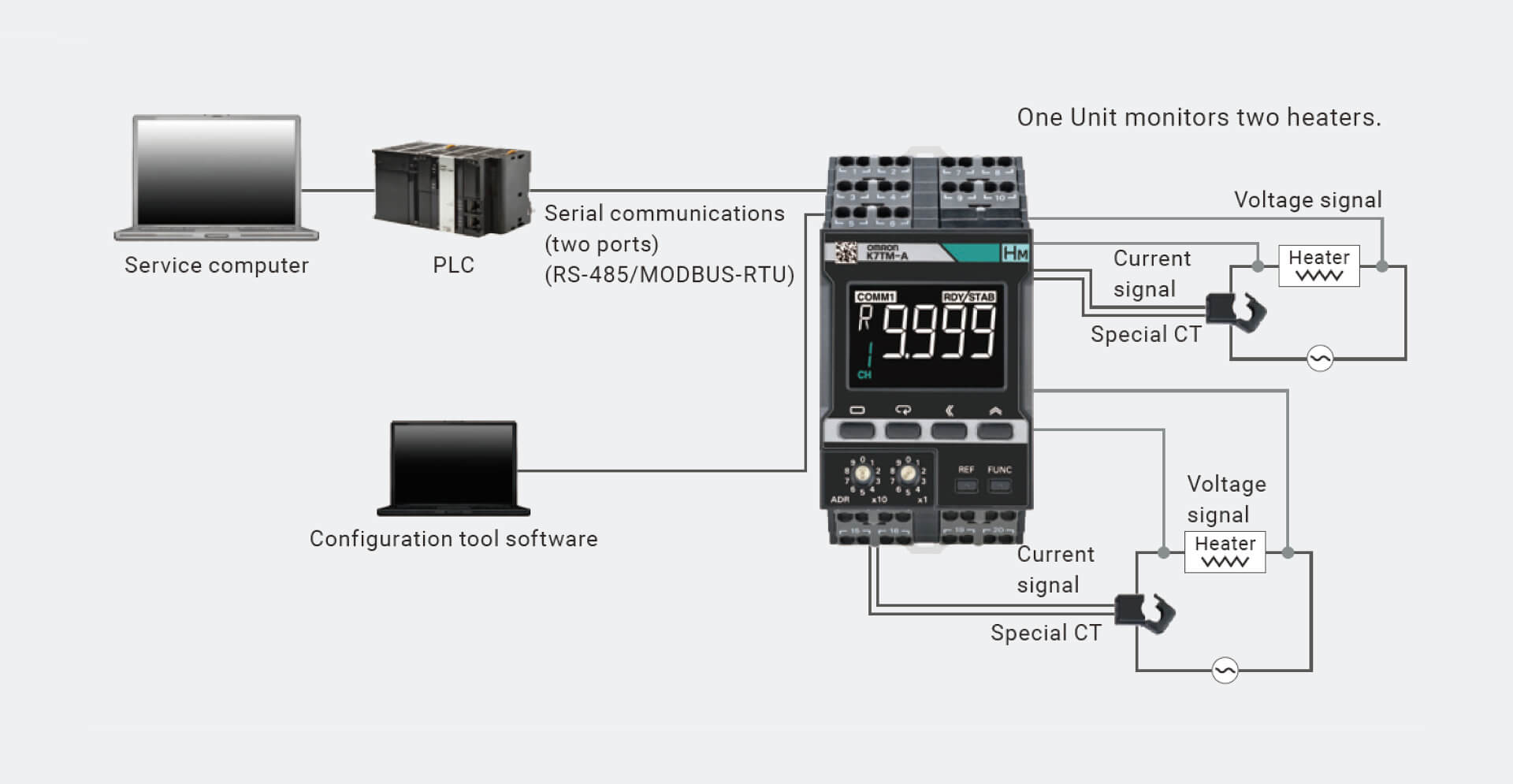 Acquisition of measurement data remotely via network connections
The K7TM heater condition monitoring device reliably measures the resistance values of heaters and enables monitoring of heating status and trends both on-site and remotely. By collecting the resistance data, the device can detect signs of deterioration and identify heaters that are susceptible to failure.