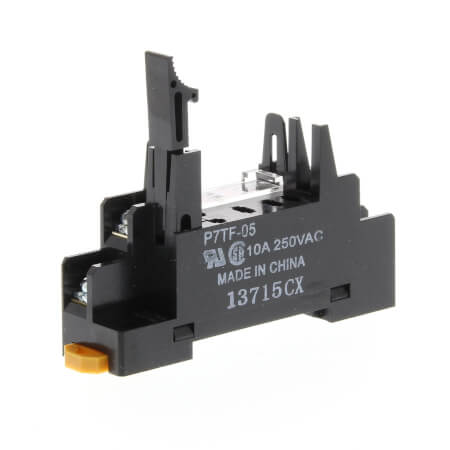 P7TF-05
P7TF is the G7T relays family sockets range
The G7T (SPST-NO, SPST-NC, and SPDT types) and the G3TA I/O Relays can be mounted on the P7TF-05 Socket. The P7TF socket has the following features:
The P7TF is a socket with reduced dimensions.
Accessory line-up including short bar and module, work as an operation indicator with the surge suppression.
Release lever included.
G7T I/O Relay and G3TA I/O Relays can be easily mounted or dismounted.
Only 19 mm in width.
Terminals corresponding to the NO and NC contacts of a Relay are arranged on top of the Socket to enhance maintainability.
Specifications & ordering info
| Produkt | Applicable product family | Mounting method | Terminal | Product Width (unpacked) | Product Height (unpacked) | Product Depth (unpacked) | Color | Hold down clip included | Applicable wire | Description | |
| --- | --- | --- | --- | --- | --- | --- | --- | --- | --- | --- | --- |
| | G7TC | DIN rail/screw | Screw | 71.5 mm | 59 mm | 19 mm | Black | Yes | Solid, Stranded, With ferrules | Socket, DIN rail/surface mounting, 5-pin, screw terminals | |
Compare products
Show more products
How can we help you?
If you have a question or would like to ask for a quote, please contact us or send a request.
+47 22 65 75 00
Contact us
Kontakt meg P7TF-05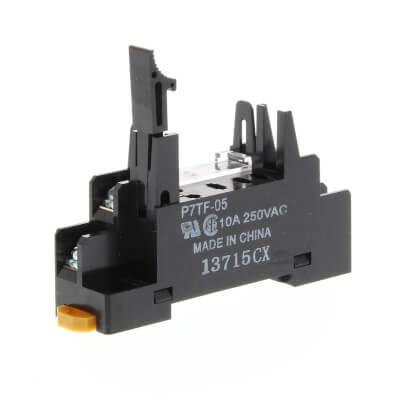 Takk for din forespørsel. Vi vil kontakte deg så snart som mulig.
Vi har for tiden tekniske problemer. Ditt skjema har ikke blitt innsendt. Vi beklager så mye og håper du vil prøve igjen senere. Detaljer:
Download
Request quotation
Request quotation
Tilbud for P7TF-05
Ved å fylle ut dette skjemaet vil du motta et tilbud på det valgte produktet. Vennligst fyll inn alle obligatoriske felter. Dine personlige opplysninger vil bli behandlet konfidensielt.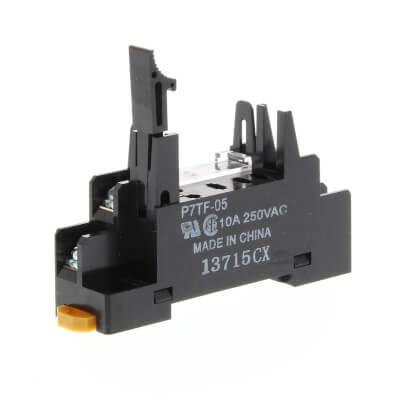 Takk for din tilbudsforespørsel. Vi vil sende deg det forespurte tilbudet så snart som mulig.
Vi har for tiden tekniske problemer. Ditt skjema har ikke blitt innsendt. Vi beklager så mye og håper du vil prøve igjen senere. Detaljer:
Download