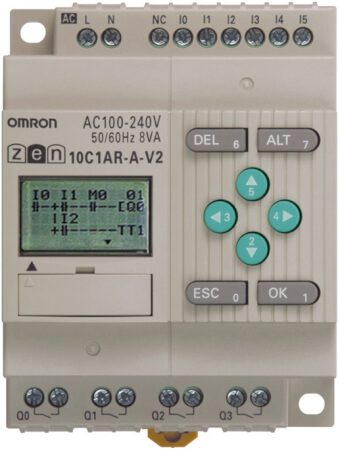 ZEN-10C
Flexible automation
With the choice of 4 different 10 I/O CPU units we fulfill all needed functionality to do all kind of control automation. Three of them (C1/C2/C4) are expandable up-to 34 I/O. The C3 has fixed 10 I/O. All DC models have analogue input and a high-speed counter input up to 150Hz. The C4 model is equipped with communication.
DC input/supply units have analogue input + high speed counter
The ZEN-10C4 has RS-485 communication
Expansion available with relay output or transistor output
ZEN-Kits the best choice to start!
Specifications & ordering info
Ordering information
Work bits (M)
Holding bits (H)
Timers (T)
Counters (C)
Weekly timers (☐)
LCD display (D)
Timer/counter
comparator (P)

Set containing CPU unit (ZEN-10C1AR-A-V2), connecting cable,
ZEN support software and manual.

Set containing CPU unit (ZEN-10C1DR-D-V2), connecting cable,
ZEN support software and manual.
Specifications
12 characters x 4 lines, with backlight (LCD-type CPU unit only)

8 (4 cursor keys and 4 operation keys) (LCD-type CPU unit only)
Accessories
| | | |
| --- | --- | --- |
| | | |
| | Battery (keeps time, date and bit values for 10 years at 25°C) | |
| | For the programming software, RS-232C cable, 9-way `D' connector for PC | |
| | USB-Serial conversion cable (to be used in combination with ZEN-CIF01) | |
| | | |
How can we help you?
If you have a question or would like to ask for a quote, please contact us or send a request.
+47 22 65 75 00
Contact us
Kontakt meg ZEN-10C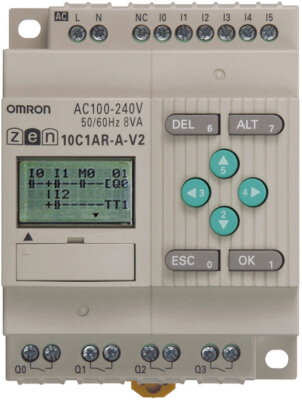 Takk for din forespørsel. Vi vil kontakte deg så snart som mulig.
Vi har for tiden tekniske problemer. Ditt skjema har ikke blitt innsendt. Vi beklager så mye og håper du vil prøve igjen senere. Detaljer:
Download
Request quotation
Request quotation
Tilbud for ZEN-10C
Ved å fylle ut dette skjemaet vil du motta et tilbud på det valgte produktet. Vennligst fyll inn alle obligatoriske felter. Dine personlige opplysninger vil bli behandlet konfidensielt.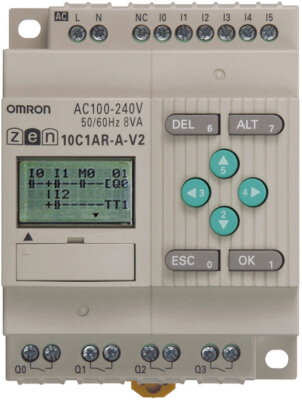 Takk for din tilbudsforespørsel. Vi vil sende deg det forespurte tilbudet så snart som mulig.
Vi har for tiden tekniske problemer. Ditt skjema har ikke blitt innsendt. Vi beklager så mye og håper du vil prøve igjen senere. Detaljer:
Download