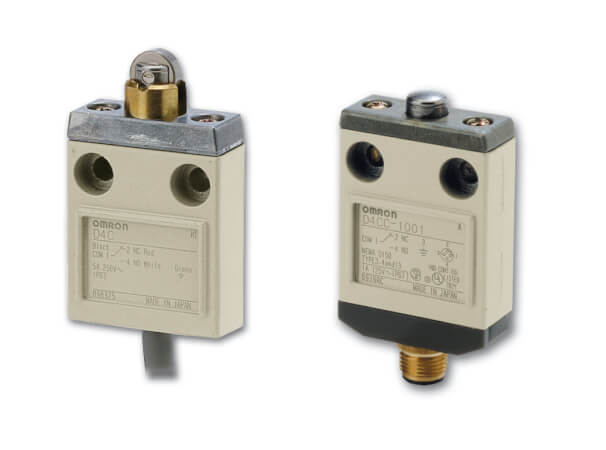 D4C
Compact limit switch in metal housing
The 16 mm flat and compact size make the D4C range of limit switches very popular for all standard applications but especially where mounting space is limited or protruding housings may interfere with machine operation. The triple sealed construction, the rugged metal housing and the precisely manufactured movable parts ensure long operational life in standard or oily environments (special models).
16 mm flat compact size
Rugged metal housing
Models with M12 connector or oil resistant VCTF cable
Specifications & ordering info
Ordering Information
Load range (VDC)1

 

 

 

 

Roller plunger with M14 mounting

Crossroller plunger with M14 mounting
Specifications
Voltage and current rating
General specifications
Durability4

D4C-3_, D4C-6_, D4CC-4_: Operation indicator (red)
Operation indicator turns OFF when the switch operates.5
---
How can we help you?
If you have a question or would like to ask for a quote, please contact us or send a request.
+47 22 65 75 00
Contact us
Kontakt meg D4C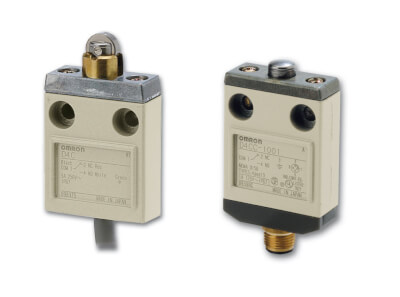 Takk for din forespørsel. Vi vil kontakte deg så snart som mulig.
Vi har for tiden tekniske problemer. Ditt skjema har ikke blitt innsendt. Vi beklager så mye og håper du vil prøve igjen senere. Detaljer:
Download
Request quotation
Request quotation
Tilbud for D4C
Ved å fylle ut dette skjemaet vil du motta et tilbud på det valgte produktet. Vennligst fyll inn alle obligatoriske felter. Dine personlige opplysninger vil bli behandlet konfidensielt.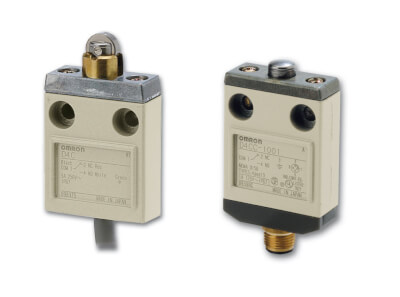 Takk for din tilbudsforespørsel. Vi vil sende deg det forespurte tilbudet så snart som mulig.
Vi har for tiden tekniske problemer. Ditt skjema har ikke blitt innsendt. Vi beklager så mye og håper du vil prøve igjen senere. Detaljer:
Download