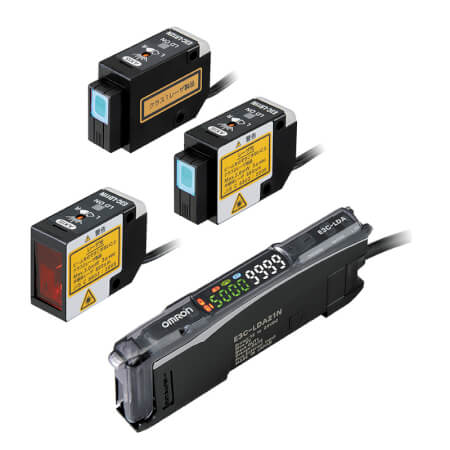 E3C-LDA_N
High precision laser sensor with separate amplifier
Variable Laser Beam for Spot, Line or Area Detection
Long-distance detection (diffuse reflective: 1 m, retro-reflective: 7 m).
Beam shape selectable from spot, line, and area types to match various applications.
Adjustable spot diameter.
Adjustable optical axis.
Fast response time up to 80 μs.
How can we help you?
If you have a question or would like to ask for a quote, please contact us or send a request.
+47 22 65 75 00
Contact us
Kontakt meg E3C-LDA_N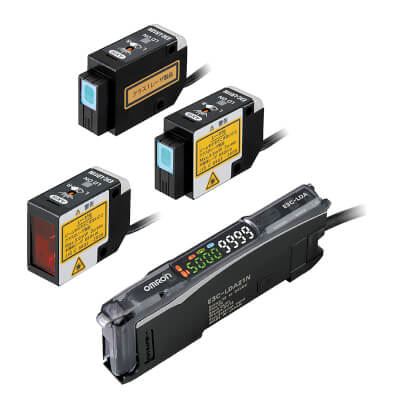 Takk for din forespørsel. Vi vil kontakte deg så snart som mulig.
Vi har for tiden tekniske problemer. Ditt skjema har ikke blitt innsendt. Vi beklager så mye og håper du vil prøve igjen senere. Detaljer:
Download
Request quotation
Request quotation
Tilbud for E3C-LDA_N
Ved å fylle ut dette skjemaet vil du motta et tilbud på det valgte produktet. Vennligst fyll inn alle obligatoriske felter. Dine personlige opplysninger vil bli behandlet konfidensielt.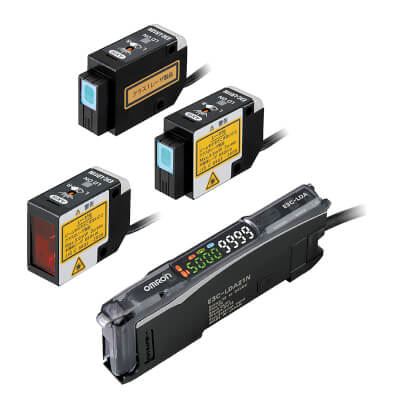 Takk for din tilbudsforespørsel. Vi vil sende deg det forespurte tilbudet så snart som mulig.
Vi har for tiden tekniske problemer. Ditt skjema har ikke blitt innsendt. Vi beklager så mye og håper du vil prøve igjen senere. Detaljer:
Download
Specifications & ordering info
| Produkt | Shape | Sensing method | Sensing distance | Sensing distance (min.) | Setting method | Connection method | Cable length | Response time | Material housing | Type of light | Laser class | Spot size | Power supply voltage | Features | Description | |
| --- | --- | --- | --- | --- | --- | --- | --- | --- | --- | --- | --- | --- | --- | --- | --- | --- |
| | Cuboid | Diffuse reflective | 1000 mm | 30 mm | Teach-In | Cable | 2 m | 0.08 ms | ABS | Laser diode, red light | 2 | 0.95 mm at 1 m | 12-24 V | 28 x 0.2 mm at 150 mm (with lens), 33 x 15 mm at 150 mm (with lens), High precision positioning & detection | Laser sensor head, diffuse reflective, 1 m, spot beam, 2 m cable | |
| | Cuboid | Coaxial retro-reflective | 7000 mm | 0 mm | Teach-In | Cable | 2 m | 0.08 ms | ABS | Laser diode, red light | 2 | 0.8 mm at 1 m | 12-24 V | High precision positioning & detection, M.S.R. | Laser sensor head, coaxial retro-reflective, 7 m, variable spot, 2 m cable | |
| | Cuboid | Coaxial retro-reflective | 7000 mm | 0 mm | Teach-In | Cable | 2 m | 0.08 ms | ABS | Laser diode, red light | 1 | 2 mm | 12-24 V | Fixed spot, High precision positioning & detection, M.S.R. | Laser sensor head, coaxial retro-reflective, 7 m, 2 mm spot diameter, fixed spot, 2 m cable | |
| | Cuboid | Coaxial retro-reflective | 7000 mm | 0 mm | Teach-In | Cable | 2 m | 0.08 ms | ABS | Laser diode, red light | 2 | | 12-24 V | High precision positioning & detection, M.S.R. | Laser sensor head, coaxial retro-reflective, 7 m, variable spot, light intensity optimized for glass, 2 m cable | |
Compare products
Show more products