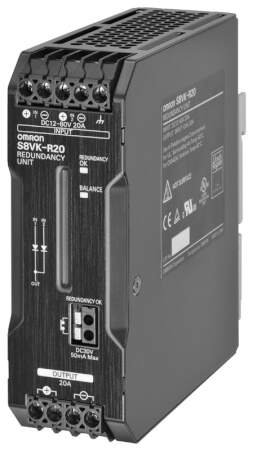 S8VK-R
The right redundancy unit for your back-up applications.
When the S8VK-R is used with switching power supplies, it provides a backup system for critical applications that require absolute reliability and zero downtime.
Redundancy operating LED for status confirmation
Signal output for failure detection of power supplies
Operation temperature range: -40 to 70°C
Double your operational lifetime by adjusting the power supply voltage to light-up the Balance LED
Power Boost function is possible when used with S8VK-G series power supplies
Specifications & ordering info
Ordering information
Specifications
LED (Green), The function to know the both of PS operate normally.

LED (Green), The function to help to get the balance of 2 unit PS output voltage
How can we help you?
If you have a question or would like to ask for a quote, please contact us or send a request.
+47 22 65 75 00
Contact us
Kontakt meg S8VK-R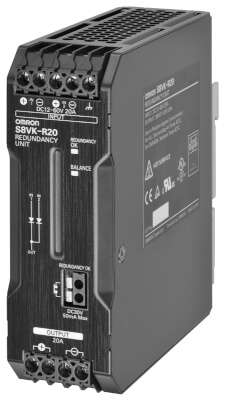 Takk for din forespørsel. Vi vil kontakte deg så snart som mulig.
Vi har for tiden tekniske problemer. Ditt skjema har ikke blitt innsendt. Vi beklager så mye og håper du vil prøve igjen senere. Detaljer:
Download
Request quotation
Request quotation
Tilbud for S8VK-R
Ved å fylle ut dette skjemaet vil du motta et tilbud på det valgte produktet. Vennligst fyll inn alle obligatoriske felter. Dine personlige opplysninger vil bli behandlet konfidensielt.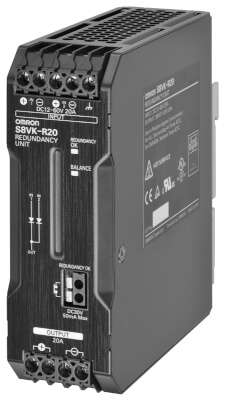 Takk for din tilbudsforespørsel. Vi vil sende deg det forespurte tilbudet så snart som mulig.
Vi har for tiden tekniske problemer. Ditt skjema har ikke blitt innsendt. Vi beklager så mye og håper du vil prøve igjen senere. Detaljer:
Download