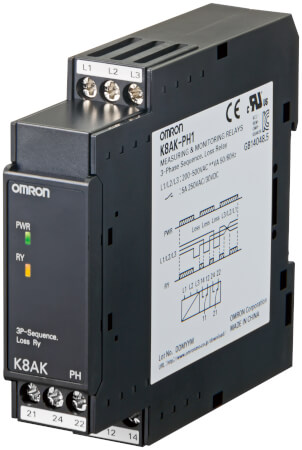 K8AK-PH
3-phase sequence, phase-loss relay
The K8AK-PH1 monitoring relay is designed to monitor 3-phase 3-wire supplies. It simultaneously monitors phase sequence and phase loss during start up as well as phase loss during operation. The output relay releases when alarm conditions are detected, and the warning status can easily be monitored using the LED indicator. Suitable for industrial facilities and equipment.
Monitors phase sequence and phase-loss simultaneously
Measuring range: 200 to 480 VAC
Power supply voltage is the same as measuring voltage
Operation reaction time: 0.1 s maximum
Specifications & ordering info
| Produkt | Functions | Installation type | Terminal | Size | Connection method | Supply voltage AC | Output type | Contact description | Body color | Description | |
| --- | --- | --- | --- | --- | --- | --- | --- | --- | --- | --- | --- |
| | Phase loss, Phase sequence | DIN Rail | Screw | 22.5 mm | 3-wire | 200-480 V | Relay | DPDT | Black | Monitoring relay 22.5mm wide, simultanious monitoring of phase sequence and loss in 3phase 3wire systems, One DPDT | |
Compare products
Show more products
How can we help you?
If you have a question or would like to ask for a quote, please contact us or send a request.
+47 22 65 75 00
Contact us
Kontakt meg K8AK-PH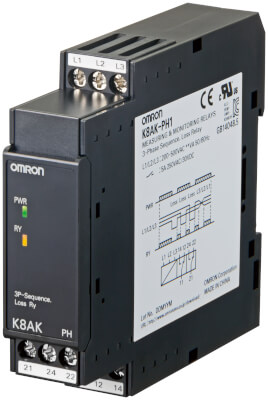 Takk for din forespørsel. Vi vil kontakte deg så snart som mulig.
Vi har for tiden tekniske problemer. Ditt skjema har ikke blitt innsendt. Vi beklager så mye og håper du vil prøve igjen senere. Detaljer:
Download
Request quotation
Request quotation
Tilbud for K8AK-PH
Ved å fylle ut dette skjemaet vil du motta et tilbud på det valgte produktet. Vennligst fyll inn alle obligatoriske felter. Dine personlige opplysninger vil bli behandlet konfidensielt.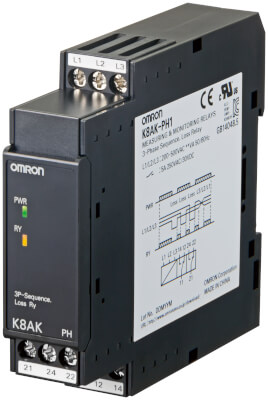 Takk for din tilbudsforespørsel. Vi vil sende deg det forespurte tilbudet så snart som mulig.
Vi har for tiden tekniske problemer. Ditt skjema har ikke blitt innsendt. Vi beklager så mye og håper du vil prøve igjen senere. Detaljer:
Download