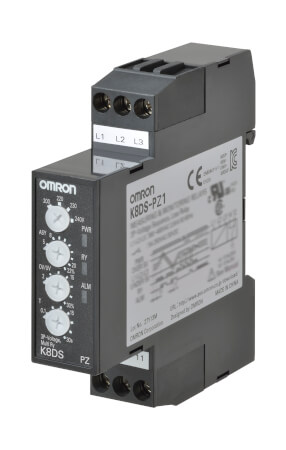 K8DS-PZ
Slim-line three-phase voltage, asymmetry and phase-sequence phase-loss protection
K8DS-PZ monitors undervoltages, overvoltages, voltage asymmetry, phase sequence and phase loss for 3-phases, 3-wire monitoring in one unit.
Worldwide power specifications supported by one unit
Front rotary switches allow for easy and accurate configuration
Reset method: automatic
LED indicators: Power (Green), Relay output (Yellow), Alarm output (Red)
Robust operating temperature: -20 to 60 ⁰C
Specifications & ordering info
Ordering information
Specifications
Asymmetry operating value = rated input voltage x asymmetry set value [%]

The asymmetry operation will function when the difference between the highest and lowest voltage phases equals or exceeds the asymmetry operating value

±0.5% full scale (at 25°C and an ambient humidity of 65% at the rated power supply voltage, 50/60 Hz sine wave input)

±50 ms (at 25°C and 65% humidity, rated power supply voltage)

Power (PWR): Green, Relay output (RY): Yellow LED, Alarm output: Red LED

EN 60947-5-1
Installation environment (pollution level 2, installation category III)

UL 508 (Recognition), Korean Radio Waves Act (Act 10564), CSA: C22.2 No.14
How can we help you?
If you have a question or would like to ask for a quote, please contact us or send a request.
+47 22 65 75 00
Contact us
Kontakt meg K8DS-PZ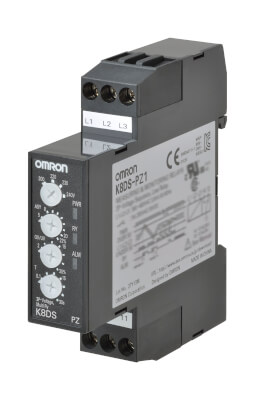 Takk for din forespørsel. Vi vil kontakte deg så snart som mulig.
Vi har for tiden tekniske problemer. Ditt skjema har ikke blitt innsendt. Vi beklager så mye og håper du vil prøve igjen senere. Detaljer:
Download
Request quotation
Request quotation
Tilbud for K8DS-PZ
Ved å fylle ut dette skjemaet vil du motta et tilbud på det valgte produktet. Vennligst fyll inn alle obligatoriske felter. Dine personlige opplysninger vil bli behandlet konfidensielt.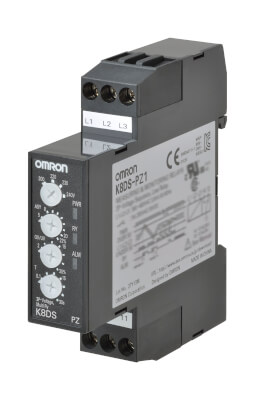 Takk for din tilbudsforespørsel. Vi vil sende deg det forespurte tilbudet så snart som mulig.
Vi har for tiden tekniske problemer. Ditt skjema har ikke blitt innsendt. Vi beklager så mye og håper du vil prøve igjen senere. Detaljer:
Download
Features
17.5 mm (w) body
Greater resistance to inverter noise
World-wide power specifications supported by one unit