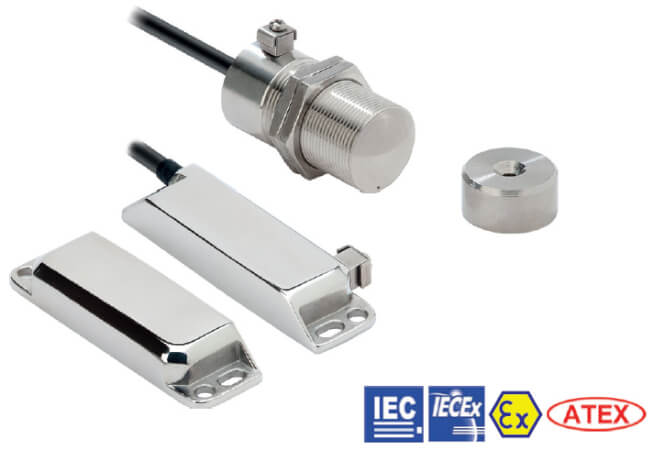 F3S-TGR-N_X
Explosion proof non-contact switches
Explosion proof reed non-contact switches monitor the status of guarding doors in petrochemical and food applications with explosive atmospheres.
Based on reed technology
Connect up to 6 switches in series
Operates with all Omron safety controllers
Operates behind stainless steel fittings
Non-contact – no abrasion – no particles
Compensation of mechanical tolerances
Suitable for high pressure cleaning, CIP/SIP processes
Conforms to safety categories up PLe acc. EN ISO13849-1
For use in hazardous areas IECEx and ATEX EExd IIC T6 (Gas and Dust). Designed for Petro-chemical and food applications where explosive atmospheres are present.
Specifications & ordering info
Ordering information
Elongated sensors
Barrel sensors
Specifications
Mechanical data
IP 67 Certification for IP67 but can be used for SIP/CIP and high pressure cleaning like IP69K)
Electrical data
0.6 A, 230 VAC/24 VDC (internally fused)
Ex specification
II 2G Ex mb IIC T6Gb, II 2D Ex mb IIC T80 Db IP67*
(*Product is fully encapsulated which is considered to provide Ingress Protection to at least IP67)
Zones 1 and 2 (Gas), Zones 21 and 22 (Dust)
Approved standards
Accessories
Set of Torx safety screws
(M4, 4 × 30 mm, 4 × 20 mm, 4 × 10 mm; incl. washers and Torx bit)

Spacer (8 mm, Set of 2pcs.)1
Wiring examples (Single head connection)
G9SA
Single sensor application with G9SA-301
(up to PLe acc. EN ISO 13849-1)
---
How can we help you?
If you have a question or would like to ask for a quote, please contact us or send a request.
+47 22 65 75 00
Contact us
Kontakt meg F3S-TGR-N_X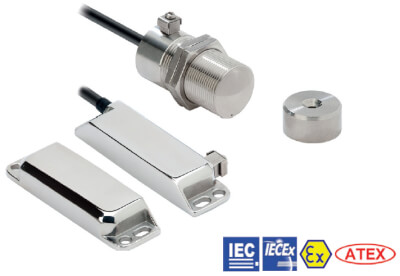 Takk for din forespørsel. Vi vil kontakte deg så snart som mulig.
Vi har for tiden tekniske problemer. Ditt skjema har ikke blitt innsendt. Vi beklager så mye og håper du vil prøve igjen senere. Detaljer:
Download
Request quotation
Request quotation
Tilbud for F3S-TGR-N_X
Ved å fylle ut dette skjemaet vil du motta et tilbud på det valgte produktet. Vennligst fyll inn alle obligatoriske felter. Dine personlige opplysninger vil bli behandlet konfidensielt.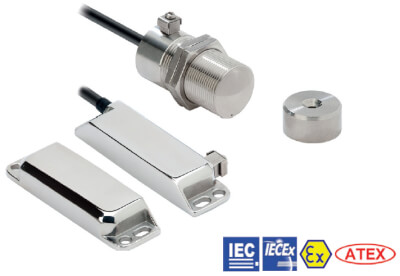 Takk for din tilbudsforespørsel. Vi vil sende deg det forespurte tilbudet så snart som mulig.
Vi har for tiden tekniske problemer. Ditt skjema har ikke blitt innsendt. Vi beklager så mye og håper du vil prøve igjen senere. Detaljer:
Download